Updating virus database of any antivirus is very essential thing in today's hacker's world. Because hackers finding thousands of new viruses and phishing websites daily. To protect your computer and most essential information from them you have to keep your antivirus program up-to-date.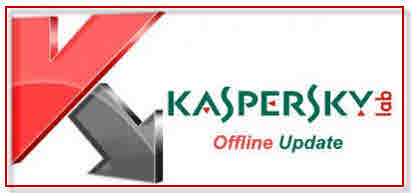 Need of Offline updates for Kaspersky 2012 products:
As we already read in the first paragraph that it is very essential to update the database to survive from latest virus. But the fact that Kaspersky Database updates are too large and they releases it daily. So the computer which doesn't have internet connectivity cannot take advantage of this antivirus. It will not work and detect many viruses until it updated at least once after installation. So in simple we can update the Kaspersky Internet Security 2012 and Kaspersky Anti Virus 2012 offline, without having an internet connection.
How to Update Kaspersky Internet Security and Antivirus 2012 Offline
To update any program with the latest virus database the first and important thing is that we should have a file/s which contains that all database. So that it can be installed on a remote offline computer. But from version 7.0 onwards Kaspersky stopped giving updates as downloadable zip files.
Where to get virus definition updates files?
For this you need an internet connected computer and Kaspersky 2012 installed on it. Then we can proceed to following procedure.
Open Kaspersky and click on settings.
Under update Tab check copy updates to folder.
Select any folder and now run the updates and let it complete.
This will save all latest virus databases to selected folder.
How to update from above downloaded files:
As we have downloaded latest update files. To resort it to another PC then follow the procedure.
Open Kaspersky and click on settings.
Under update Tab click on Update source.
Add new update path (Select the folder in which you have downloaded updates)
Click OK and remove default Kaspersky update server (online)
Now every things are finish just click on update from Kaspersky menu. Yappy your antivirus is now up-to-date.