Aakash 2 also known as Ubislate 7 tablet is the most awaited and updated version n world's cheapest Tablet Aakash. There are many rumors about it.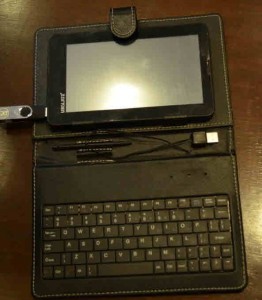 Image Source: NDTV Images
What is Aakash 2 or Ubislate 7?
After reading them you will come to know that what is Aakash and people are trying to find more details about it.
Students can also get 50% discount on Aakash Tab.
Is it possible to connect an external USB 2.0 Keyboard with Aakash Tab?
Yes of course it is possible to connect external keyboard to Aakash Tablet. As it has usb 2.0 ports and there is internal keyboard handling software which made it easy for installation of new external keyboard to Aakash Tab / Ubislate 7.
Why we need to connect external keyboard?
Off course Aakash has internal virtual keyboard like other Tabs but in India the primary aim of Aakash is to provide computer like functionality to students who are poor and other many reasons behind it. Since making Tab to operate better way we can use the external keyboards.
How To connect an external USB 2.0 Keyboard with Aakash Tab or Ubislate 7?
It is very simple that as Aakash Tab has Inbuilt two USB 2.0 ports just like our computer.
See the image:
You can connect the keyboard just like you do for your computer. However the computer supports PS 2 keyboards and Mouse but Aakash don't have any PS2 port so we cannot use PS 2 keyboards.
Can we connect the USB 2.0 mouse to Aakash TAB?
If you just ask me I will say yes. But the actual procedure will be different, because the internal operating system of Ubislate 7 is android 2.3 so we cannot use mouse directly without any application as we use under windows environment.
If you have more FAQ about Aakash then you can go here:
http://www.ubislate.com/faqs.html
They have answered the most frequently asked questions.
If you have any question regarding this post then you are always free to ask by commenting here.