Everyone is talking about the Nexus 7, the latest Android tablet and the first gadget to feature Android 4.1, Jelly Bean. We already discussed the procedure to order Google Nexus 7 tab online. Should I Get Myself a Nexus 7? To be fair, we're all talking about this tablet for good reason; it's got some super specs and it comes with a friendly price tag. If you want the 8GB tablet, it'll set you back around £159, whereas you'll pay £199 for the 16GB tablet. That's pretty cheap in comparison to, well, everything else on the market. It's much smaller than an iPad, featuring just a 7-inch display, which means it's not quite as good for movies and videos – but all in all, the Nexus 7 offers fantastic value for money.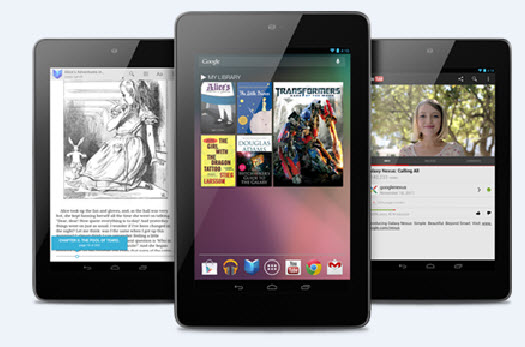 A good summary of the tablet is provided by The Telegraph's Matt Warman, who says that "Its new Nexus 7 tablet takes on Amazon and the Kindle instead, and aims to encourage users to watch more films and read more books on a small screen than previously. It does not hope to surprise and delight in quite the same way that Apple's many apps do. Whether it's Angry Birds or Draw Something, the next craze is unlikely to be driven by the Nexus 7, in part because of the relative lack of Android tablet-specific software."
In other words, the Nexus 7 is not exactly revolutionary. All the apps that you can get on the Nexus are already available on any Android handset of your choosing. Its display is only 2.2 inches bigger than that of the Samsung Galaxy S3, which makes it only 2.2 inches better when it comes to playing videos and reading e-books on the move. However, it costs less than £200, which means it's around £300 cheaper than the Galaxy S3 or the iPhone. It also packs in a 1.3GHz quad-core chip, making it around about as powerful as the S3.
While we're comparing the Nexus 7 to phones, this doesn't, of course, mean it's in direct competition with phones. Because it's not a phone. You can't call people with the Nexus 7 – though you can Skype them – and you can't easily send texts – though you can e-mail them. However, as someone who usually opts for simple budget Android phones to make my calls and check Facebook, I'd consider adding the Nexus 7 to my gadget pile. It does everything the S3 does, minus making calls and texts. SO still the question is here should I Get Myself a Nexus 7?
There is the tiny matter of 3G, which the Nexus 7 doesn't have access to. This means it's actually only useful when you're at home, or in a café with Wi-Fi, or some similarly well-connected setting. However, even when you're not online, you'll have a bunch of apps, movies and music to entertain you. Ultimately, it's the price of the Nexus 7 that may enable it to penetrate the iPad-dominated tablet market. It's cheap and it does most of the things that an iPad does for a third of the price. That alone could be the deal breaker that makes the Nexus 7.