SEO for Websites: The objective of any website is to rank high on Google and SEO is indispensable for the same.  One must comprehend with the fact that the visibility of a website has a domino- effect on one's business. As a beginner, one must not rush but endeavorto move steadily.  Bombarding your website with too much of SEO optimization at the initial stage can even result in penalization. Like building lots of irrelevant backlinks to your domain within very small period can result of Google's web spam penalty- also known as Penguin update.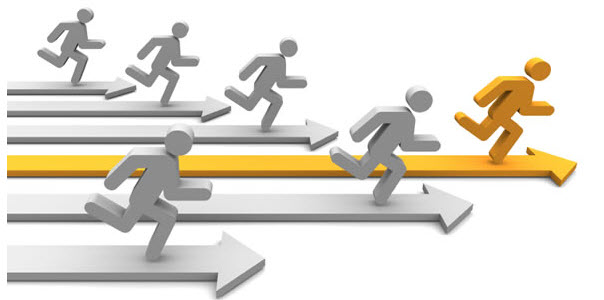 While searches contribute to a website's ranking to an extent, SEO acts as an impetus to the same and hence cannot be ignored. The fundamental motive must be to get one's website considerable quality traffic. SEO convert your website traffic to sales that pages of your websites does this best are knows as conversion pages. You must concentrate on these pages for good SEO strategies.
A few simple steps those are feasible and economical for a Starter:
1)      Understanding your goal:
With a help of a few tools like Klout, Google webmaster Tool, one will be able to assess one's stand at present. This will help you determine your objective and formulate your strategies. In simple words, this will help you keep a track on the measurability aspect of your goal. Later, you can also employ SEO tools that will assess your SEO analysis, giving you an insight of your performance and efficiency. It is very important to see where you are in terms of SEO, so that you can define your goal for the perfect SEO for websites.
2)      Augmenting your accessibility:
Accessibility of the website is a major attribute that will prove way for its prominence. Submitting your sitemap via Webmasters tool of Google, Yahoo SiteExplorer/Bing Webmaster tool and creating a menu providing all the essential data you would want to display will help you gain visibility.
Also, remember the inability of Google to index texts within images and websites. To overcome this problem you can add the "alt" text to your images using the alt text attribute of the html formatting. While they may add to your website's attractiveness, they can prevent the search engine crawlers from accessing the content. Maintaining a fine balance between a website's usability and its artistic attributes is essential. However, one can play smartly by using jQuery libraries web spiders recognize it.
Writing descriptive Meta tags will help you pull heaps of traffic to your website.
3)      Explore avenues:
SEO for websites will maximize your presence on online platforms. There is a need to explore and delve into as many platforms as possible to intensify your visibility. Lately, Social media platforms have evolved as great platforms for companies to promote themselves. The recognition that they earn from the consumers helps in drawing more people towards their website.
4)      Partnerships with other website:
Collaborating with other website can help your website acquire increased traffic. Such partnerships help both the parties strengthen their traffic figures. This traffic is referred as referral traffic. One thing you should take care that the referral traffic should not be more than the organic traffic (Traffic that coming from search engines).
5)      Engaging your readers:
A website that is engaging and interactive in nature will always have an upper hand over other conventional websites. Infusing links to other articles catering to the same sphere will hold the attention of visitors to your website and help you earn their goodwill.
"Well- begun is half done. " So, have a great start.
Summary:
SEO techniques are must for a website gaining due recognition and ranking high on Google. Determining one's goal and assessing one's performance on a regular basis is necessary to ascertain your stand on the gargantuan online platform. An interactive site that is well- promoted has high chances of getting popular ina short span of time.