When compared to the traditional methods to store movies and music – discs and cassette – the digital form to store favorite your flicks and tracks is incredibly easy! Yet, it is the half of the story! On the other hand, the same process does become quite tedious, as the digital world always advocates complexities. However, as you might have used, if you can use some powerful tools in your PC, you can reduce the tediousness of the mentioned task. But, you have to choose the best software for the purpose, so that you can feel the effect very soon. In order to help you, we love to introduce you two tools for managing your movie and music collection without spending that much time. Now, we will review both of these two tools in order to give you a clear about how these tools, from Leawo, works. First, since the world is rich in the case of movie freaks, we will check out Blu-ray ripper from Leawo, which is exclusively made for movie freaks, who loves to store favorite flicks in their PC.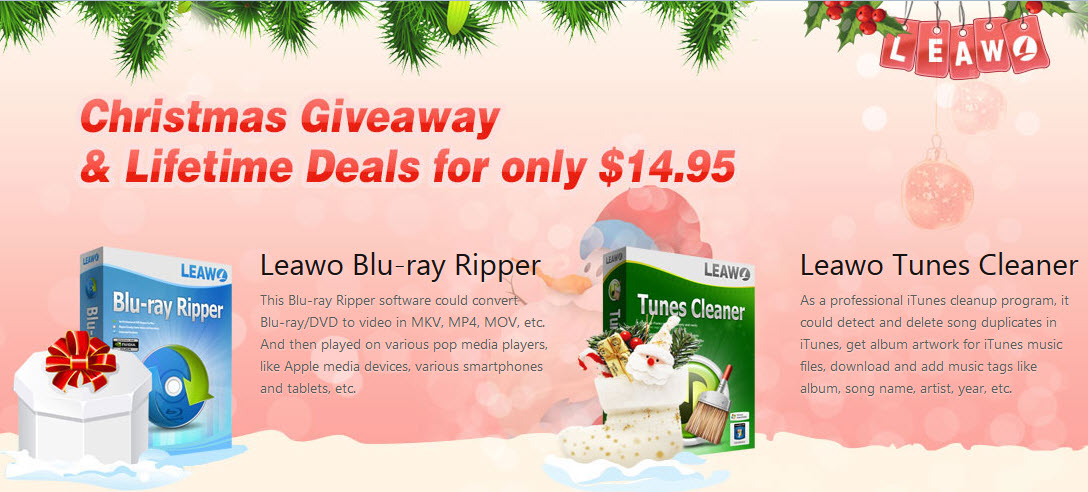 Blu-ray Ripper from Leawo
As one who loves movies, in order to grab the real feel of movies, Blu-ray discs may be your weakness. In spite of the fact that Blu-ray discs undoubtedly provide an unmatchable viewing experience, such discs are not easy to carry, nor can you use those discs in other computing devices such as Smartphones or Tablet PCs. In such situations, you could utilize Blu-ray ripping tools, and Blu-ray Ripper from Leawo seems to be an adequate answer for this question. Some of notable features of the tool are as follows.
Wide-Range of Formats: Using this tool, you can convert your Blu-ray or DVD disc into wide range of popular media formats such as MKV, AVI, and MP4 etc, which are accessible from different kinds of devices.
2D to 3D Conversion: Suppose you have an interesting movie DVD/Blu-ray with you! If you have a TV with 3D support, you can use Blu-ray ripper to convert the 2D movie to 3D version. In addition, the tool consists of a lot of customization options
Customization & Editing Features: Apart from the powerful conversion abilities, you can customize different attributes of the conversion process to suite your requirement. Also, you can find easy-to-use editing along with the subtitle management features.
Pre-set for Devices: The tool itself knows which format is best for specific devices. If you this pre-set info, it will be easier for you to find the appropriate file format for your device.
Tunes Cleaner for iTunes
At least a few of you might be using iTunes to store and play your music, especially if you possess an Apple device. As the name may make sense, this software can help you clean your iTunes library through finding & deleting duplicate tracks. Of course, this will help you create a unique and useful iTunes playlist for your iDevices without spending that much time. There are many methods to filter the results including the useful ones. Some of powerful features of this tool are given below.
Get Additional Music Information: As you might not be using iTunes Store to get all your songs, all the songs may not have all additional information. For instance, if you select the option, you can grab different data, as the album art, artist and album information etc, in matter of seconds. In addition, the database of this tool is quite huge than you expect.
Edit Track Information: In order to keep the iTunes playlist useful, you might have to edit details of songs in such a way that everything is fine. When it comes to the case of Tunes Cleaner for iTunes, you can edit many information of the song, which may not be possible normally.
Clever Filtering Methods: You can filter songs in the playlist to find the suitable songs for you. For instance, if you want to find songs that lack album art, and then to provide them album art, you can select the filtering option to filter results. In addition to all these, User Interface of Tunes Cleaner is quite awesome
Worth-Checking Offers for You
Leawo, the developer venture behind both of these tools, has come up with some awesome deals for movie & music freaks as Christmas is quite near! Hope you will check those too. Meanwhile, do not forget to participate in giveaway in order to test your luck. If luck helps you, it will be quite useful for you to manage your music and movie collection.