Sometimes we are so callous in many ways, and one of them is, we just dispose of the used-batteries into the dustbins, without even giving a thought that our actions will do harm to the environment, and therefore it makes sense to know to dispose of batteries. Disposing the battery is very important as far as personal and environmental health is concerned. On the cover of the battery you can probably find a strict warning about the proper disposal, keeping them away from children and fire to avoid the dangerous situation.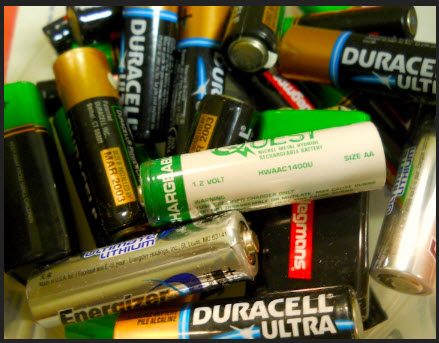 Need of disposing of batteries:
Once the battery starts losing power, you should have it removed to prevent leakage. It is not safe to keep the batteries in your wallet or pocket, as it may lead to rupturing, may be you put some metal object in your pocket with the battery like coin or anything then there is chance of should circuit of the battery; therefore it is essential to know to dispose of batteries. It is wiser that you should keep the batteries in a closed container or a zip-lock-bag, till the time being, when you are ready to dispose it of in the right manner.
How to dispose the batteries:
In your task todispose of batteries, you should never attempt to burn it in fire, as it might explode. One should also not recharge the battery, unless mentioned as rechargeable battery. As most of the batteries come under the house-hold-waste category, then you should follow the correct guideline towards its disposal. If you are not clear about the guidelines on disposing of batteries, then you should check for information on it online, which has detailed information on disposal of batteries.
You will find that most of the regular-alkaline-batteries are not hazardous and can be disposed in your regular-household-trash. However, make sure that you do not dispose of too many alkaline batteries in a group, because these can only cause certain hazardous impact on the environment and health. Most of the times, the used batteries are not completely dead when we dispose them off. As such, if you dispose of these 'live' batteries in a group, with contact to each other, these can create safety risks for human health and environment as well. For those batteries like the mercury, oxide, lithium etc… It's better to follow the battery's-recycling-guidelines and not go on your own for how to dispose of batteries. Many rechargeable batteries also contain cadmium, and is significantly hazardous to people and environment if any leakage occurs in the landfill, or if it is being processed through an incinerator. The batteries consist of extremely harmful elements, which when leaked to the ground will prove hazardous to our environment. The best solution to dispose of batteries is to deposit then at your re-cycling centers, which will do the task for you or have them picked up at your address on the house-hold-waste-disposal-days.
In addition to the traditional forms of rechargeable batteries like AAs and AAAs, the rechargeable batteries  that are specifically used for various household purposes like cell phones, cameras, laptops and other others should also be recycled as mentioned in the recycling seals of the same. The lead containing car batteries should also be brought to the waste management centers for recycling, and not disposed off in the household trashes. Moreover, you can get a recycled value from the same as well. Thus, these are some better ways in how to dispose of batteries in the appropriate manner.