Have you ever dreamt that you've made it onto a gameshow? The bright lights, the glamorous host, and of course, the prizes waiting to be won – it sounds like a dream come true, right? Of course, for many of us it remains a fantasy. But what if we told you, that you could re-create the magic of your favourite gameshow from the comfort of your living room, through the wonders of live online casino. Fancy living your dream, then check out: https://games.paddypower.com/ for all the latest gameshow-style fun.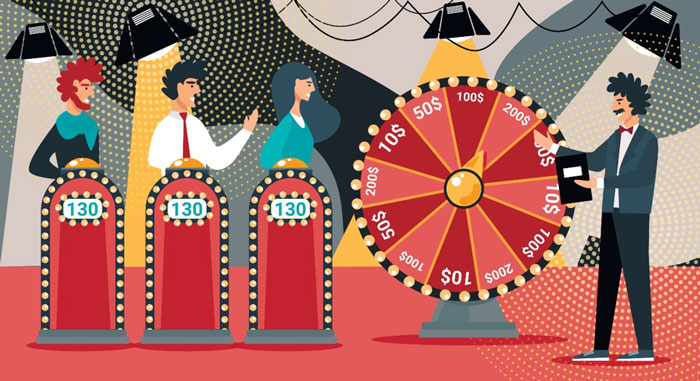 Dream Catcher
Did you ever love Wheel of Fortune? Well Dream Catcher is much the same – just think bigger, brighter and with a pay-out of up to 40x your stake. Play starts from as little as 0.10 coins, so hardly breaking the bank – although of course, you can place your money on more than one outcome at any given spin. There are six numbers and different colour segments to choose from, as well as two multipliers. Landing a multiplier will increase your winnings. So, place your bet, and watch on as your host spins the wheel. Here's everything you need to know:
Number 1 – pay-out is 1:1
Number 2 – pay-out is 2:1
Number 5 – pay-out is 5:1
Number 10 – pay-out is 10:1
Number 20 – pay-out is 20:1
Number 40 – pay-out is 40:1
2x multiplier – pay-out is 2x your stake
7x multiplier – pay-out is 7x your stake
Both the multipliers appear once, while the numbers themselves feature on the wheel in different frequencies – with 1 being the most frequent, hence the lower pay-out, and 40, the least frequent, and also appearing once.
Have you got what it takes to catch your dreams? Spin the wheel and see…
Mega Ball
If you're a fan of Lottery-style games or Bingo, then Mega Ball will be right up your street! This live dealer game is totally unique, and how much fun you have will be determined by how much you're willing to spend – although the game has the potential of rewarding you with one million times your stake, so certainly not for the faint-hearted.
To begin playing, purchase a card. How many you claim is completely down to you – you can choose anywhere between one and 200! Not only that, but you can also choose how much you stake per card, and whatever you decide will influence the size of the prize pool as the game gets underway.
Once all wagers are in, it's time to watch on as your host will reveal the winning numbers – and as your numbers are revealed, you'll need to scratch them off your card. The more you mark off, the bigger the prize. And if that wasn't enough, keep an eye out for in-game multipliers and of course, the Mega Ball itself.
Crazy Time
And if those two games weren't exciting enough for you, buckle up and go for a wild ride with Crazy Time. Once again, this particular title uses the big wheel format, but there are four different bonus rounds to up the ante!
Like many other big wheel games, you'll be predicting where the wheel will stop – with different numbered and coloured segments to choose from, and each number corresponding to its pay-out. For example, 1 would equate to a 1:1 pay-out, while 10 will reward you with 10x your stake.
Every sixth spin will correlate to a bonus round, and as mentioned, there are four to try your hand at:
Cash Hunt: be transported to a large shooting gallery-style big screen, with 108 random multipliers. These are covered by random symbols and the player has to select the target to the corresponding symbol, a cannon will then shoot and the multiplier is revealed
Coin flip: turn your game on the flip of a coin, as you find out which multiplier you'll be rewarded with. The coin is red on one side and blue on the other, each with their own multiplier assigned it. Whichever side the coin lands on, that will be your bonus multiplier
Pachinko: if you've never played pachinko before, you'll be in for a treat with this bonus game. Your host will launch a puck from the top of the wall and it will ping between pegs before landing in a slot along the bottom to reveal your multiplier. Land the 'double' slot and go again, until a multiplier is won
Crazy time: enter a crazy world, with a giant spinning wheel. The players will choose a flapper, before the host presses a button and players will win the multiplier where the flapper points. If it lands on 'double' or 'triple', the wheel will be re-spun
You've got to be in it, to win it – so it's time to go crazy!