Video gaming is very big business now, as the industry has expanded rapidly during the past several years. As of 2021, the gaming industry has a value of USD 198.40 billion.
This growth is expected to continue over the coming years as well, with the industry forecast to be worth USD 339.95 billion by the end of 2027. All around the world, more and more people are looking to get into gaming.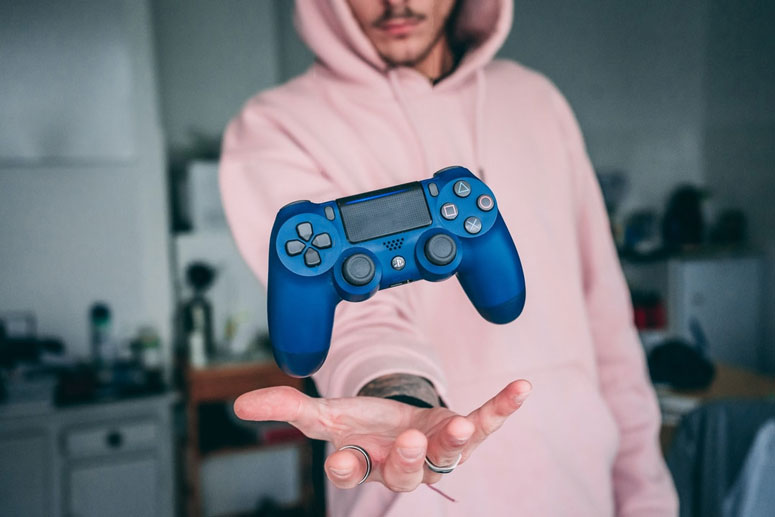 One reason for the fast rising popularity of playing games is that it is something that people can do alone or with their mates. That makes it an ideal leisure activity for any situation.
Here we will outline how you can get the best out of gaming with your friends.
Guide to choosing the right games
Obviously you will need to pick games that are suitable for use by multiple players at the same time. Types of games to consider include multiplayer online and action games, co-op ones and casino ones.
However there is a bit more to choosing the right options to play with friends than that. The other big thing that you need to consider is their experience level.
First we will look at some of the types of games that will make for fun gaming with your mates if they are as experienced at playing video games as you are.
Multiplayer role-playing and action games can be great to play with mates if they are all skilled players. A good example of this is the multiplayer online battle arena (MOBA) game League of Legends. This will see you split up into two teams that will oppose each other to try to win the game.
Of course, games of this sort are only suitable if you have large groups of friends. For smaller groups of experienced players, there are action titles like the Street Fighter series, Smash Bros Ultimate or Mortal Kombat that will enable you to have great fun pitting your console skills against each other.
Consider Casino Games
Online casino games can be another fantastic option for gaming with friends, as long as they all know the rules of the chosen games. Many of the sites that offer live casino now cater to groups of friends.
Live casino means you play games like poker or blackjack at an online casino but with a live in-person dealer. This is achieved using video live-streaming and most sites now enable groups of people to play in this way.
It can add to the thrill of gaming at a casino. Blackjack and poker really require some grasp of the rules and strategies before starting though, as hard cash will be involved.
For Less Experienced Players
If you are someone who has been playing games for years, but your friends are not experienced players, you will need to bear that in mind if you want playing with them to be fun.
They will not enjoy the game if they are struggling to match your skill level and neither will you. Winning all the time quickly becomes boring for you and discouraging for them.
Pick a relatively simple console for them to play with, which does not feature too many controls or buttons. Any of the ones prior to the Nintendo 64 era will be best for new players.
It might be a little frustrating for you at first, because you will know how to cope with issues like controlling the camera as well as the character you are playing as, but remember how hard you found that when you first started.
In addition to using earlier, less complex gaming consoles, you should also choose simpler actual games when you are playing with mates who lack your skill level. They will lose interest very quickly if they keep failing to progress.
Mario Party will be one ideal pick in this situation. It is similar to a board game, but in video game format and contains a number of fun but fairly straightforward mini-games that friends can play together.
Lego-inspired video games like Lego Marvel Superheroes are other good examples. These feature colorful graphics and fun play centered on puzzles that you work to figure out together – which brings us to another key point.
Think Co-operative
Games like Call of Duty or Injustice 2, where you play against each other will be great for groups of mates on an equal level. If you are more skilled though, they give you a huge advantage over your friends.
In that situation, co-op games are the way to go for an enjoyable experience. In those sorts of games, the players work with each other to win instead.
The aforementioned Lego games are good examples of co-op titles, but they are certainly not the only ones. Another excellent one is the indie game PHOGS!
This sees the players' team up as dogs to get across the different obstacles in the Play, Food and Sleep worlds. It is simple to control, so new players can grasp it quickly.
The key to playing games happily with your mates is to be aware of their skill levels and pick the sort of games that will best suit that level. It is also important to show patience if they are not as experienced as you at gaming and struggle a bit when they first start to play.