We are a few months into 2021, and we can already see how the world is changing. Sure, 2020 was not that great, and many industries were in a semi-dormant stage. However, it did not stop them from creating new technologies and bringing them to the limelight. This is why we still have a lot to talk about when discussing the development of online gaming technologies in 2021.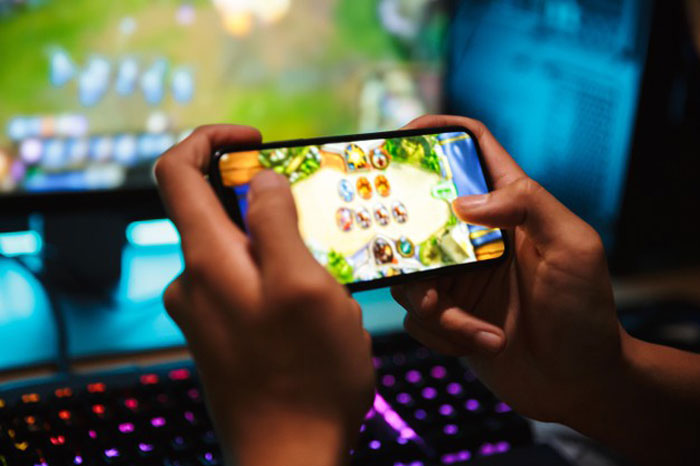 Like many other industries, online gaming also noticed the increasing demand and the rising need to adapt to new environments in 2020. Therefore, the main focus of gaming technologies in 2021 has been to offer a more immersive gaming experience to customers. Given that the internet has become the default meeting space for thousands of people worldwide, online gaming had to step up the game.
In this article, we have talked about the major trends we will see in developing online gaming technologies in 2021. In particular, we will talk about how these technologies will construct an immersive environment for online gaming.
#1 Cloud-Gaming Services
Sources from tech giants confirm that 2021 will see the rise of cloud-gaming services at an unprecedented level. We are talking about many big players in the industry, including Google Stadia and Xbox Cloud Gaming from Microsoft. These services make it easy for anyone with a good internet connection to stream and play high-end AAA gaming titles without having a super-expensive computer or console. Most of these cloud-gaming services come with a dedicated controller and enable sensitive sync with the cloud servers. Together, the infrastructure provides a smooth online gaming system for customers. Since all things take place within the cloud, customers can enjoy advanced features like super-fast streaming.
#2 Mobile Gaming
Mobile gaming has been on the top-trends list for more than a decade, and it has not lost its relevance yet. However, in 2021, mobile gaming would take a rather swift turn, all thanks to increasing 5G connectivity. As we see the rise of impressive 5G-enabled devices communicating with each other and powered by one of the lowest latencies, many sub-genres of online gaming can redefine themselves in 2021. Considering that we see the rise of performance-focused smartphones, such as the ROG Phone series, we can expect higher-quality games and in-game elements in these months. The best part? These changes are happening in both the developed and developing parts of the world.
#3 The Age of Blockchain
2021 is also the year when we see the penetration of blockchain technology into the gaming scene. The best part about blockchain is that it can improve the gaming experience from multiple aspects. You may have noticed that some casino promotions and following agencies talk extensively about using blockchain tech in their games. It happens because blockchain technology can improve the transparency and reliability of the online gaming sector by a long shot. On the other hand, blockchain can also help makers develop an effective way to manage in-app elements. Of course, it could be a couple of years before we groundbreaking changes, but blockchain will be a part of 2021 for sure.
#4 Augmented and Virtual Reality
Even in a depressing year like 2020, we have seen the launch of accessories for AR and VR. Some companies like Microsoft are also working on bringing Mixed Reality to the enterprise sector by launching a combination of hardware and software solutions. As for gaming, the possibilities offered by AR and VR are endless. Since people cannot go out as they used to, engaging in a VR/AR/MR could be the closest they can get to real-world experiences, you know. We know it is a stretch to say that Augmented Reality and Virtual Reality will take over the online gaming world in 2021, but there is a high chance that they will. After all, what is all this excellent hardware for?
#5 Enhanced Reach
Gone are the days when online gaming was considered a niche thing. Now, we are talking about ensuring a top-level reach for the gaming industry. And streaming is one of the things you cannot forget in this area. In the past year, we have seen an increasing response towards streaming and streamers. We also see that a lot of people now accept game-streaming as a modern form of entertainment. This trend can impact the online gaming world in a positive sense. Thanks to this trend, more people are moving towards game streaming — and they create great content. More importantly, these streaming spaces become an excellent place to share ideas and opinions.
The Bottom Line
As you can see, all of these technologies have the potential to change online gaming for good. Therefore, it must not surprise you if you see a brand-new gaming world by the end of 2021. As we speak, more people are getting access to better hardware and internet connection. This fact alone is an excellent step towards better online gaming spaces.