We already seen all the features of Bitdefender Internet Security 2013  and also had arranged a giveaway contest for Bitdefender Total Security 2013 licenses giveaway exclusively for the readers of Xtendedview. Hope you enjoy the contest. Bitdefender released new exiting products called Windows 8 Security or you can say Bitdefender Windows 8 Security. People are crazy to use the latest and fastest operating system from Microsoft. We already discussed few how to articles regarding Microsoft Windows 8 titled:
Using Windows 8 is really great and fastest experience ever could with all other versions of Windows, but what about security? Microsoft already provided Antivirus in Windows 8 by default and it is Windows Defender. So do you really need to buy an antivirus program? But I will prefer you that you should go for any dedicated antivirus or Internet security solution. You can find why you should disable Windows Defender and go with other premium brand for more security and ease of operation.
Bitdefender Windows 8 Security is the first dedicated antivirus for Windows 8. Few other brands in the antivirus industries are also in the beta stage for the Windows 8 protection program.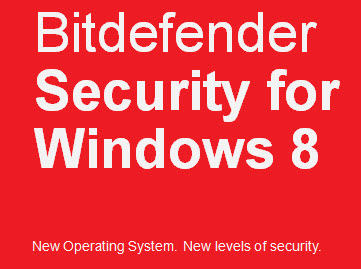 In this article we will briefly explain the installation, use and new features of Bitdefender Windows 8 Security.
Before going to see the installation and all just take a look on why you should go with this antivirus in your Windows 8  OS, even if there is the Windows Defender present.
As compared to Windows Defender it has the following features: 

Bitdefender is number one according to PCMAG and AV-Test.
Installation:
You can try a fully featured 30 days trail version from the Bitdefender. You can find the download link here on this page: http://www.bitdefender.com/solutions/windows-8-security.html
Remember that it will give you a small installation file that helps you to download setup from the internet and can install directly to your computer.  You can see the download screen.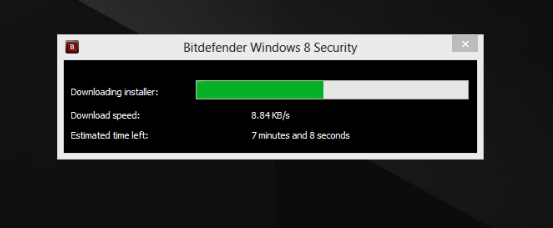 There is no option to download the setup on one computer and then install it offline or on another computer. You can only be able to download and install Bitdefender Windows 8 security to your Windows 8 online from either Windows Store or from this installation file. This file scans your computer for primary infections. Sometime it happens that virus terminate the installation of any antivirus, so this scanning before installing main setup is best technique used by Bitdefender.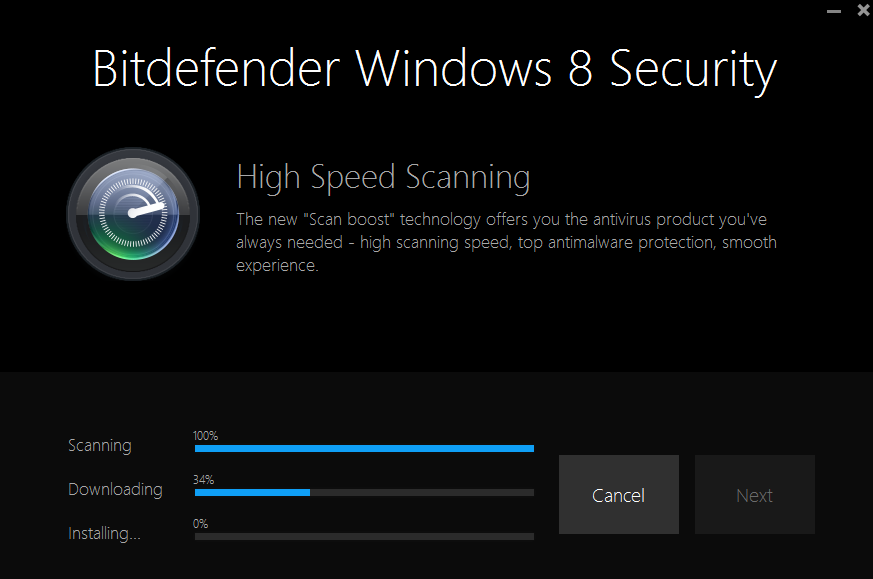 Installation may take up to several minutes to several hours depending on the speed of internet you are using. Please be patience it takes more time than usual. You can resume the setup even your internet got disconnected or any other download file error.
After successful installation you can see the following screen. Select get started.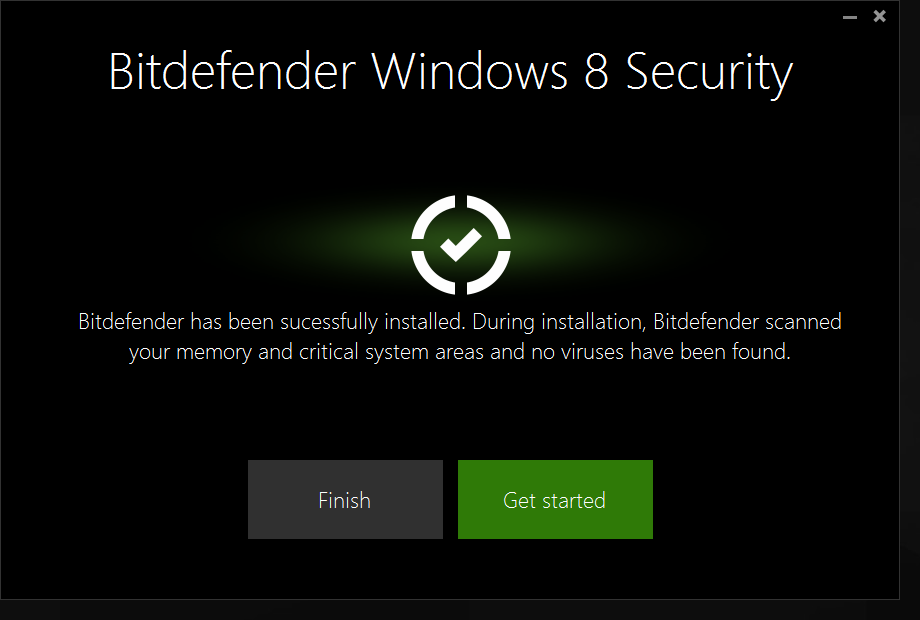 Once you click on the get started, installer will ask to whether you would like to send anonymous data to Bitdefender server to improve the overall protection and find ways to protect from new attacks. This will enable the program to send the user data to the Bitdefender along with the error that program encounter during the use. It helps the developers to release perfect updates time to time to resolve the issues facing by users.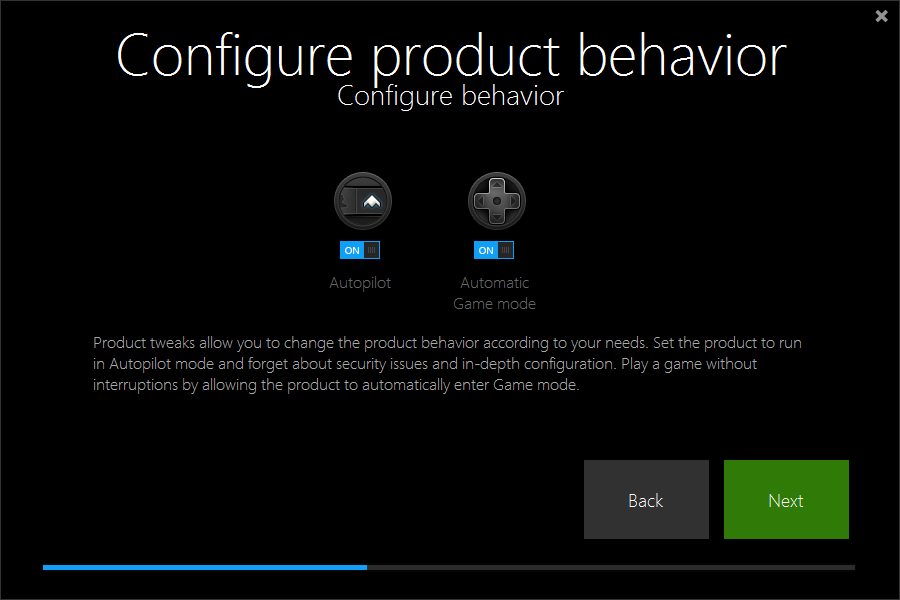 On the next screen it will ask you whether on Autopilot and Automatic Gaming mode. I recommend you to keep on both of the features. Autopilot will help you to take all decision automatically by program itself. You will get be asked for anything, just like new infected file detected-Delete it, Updates available-start updates. Also the Automatic Gaming mode provide automatically optimize the Windows for best gaming experience. It reduces the memory usages and clear unwanted memory junks.
After complete and successful installation you will see this desk Screen of Bitdefender Windows 8 Security: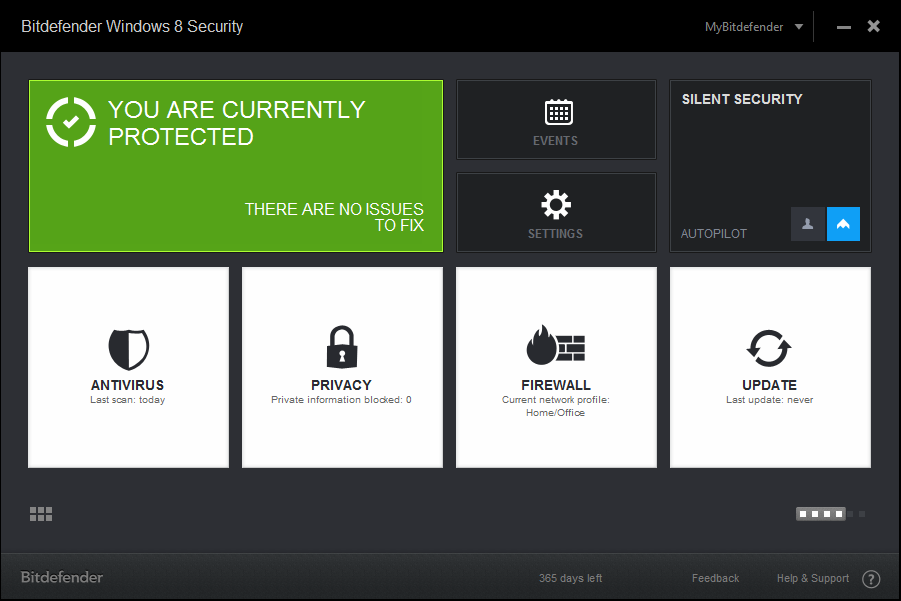 It gives you an overview to all the areas like your license information, Antivirus status, Firewall, Privacy and updates. If anything going wrong in any areas then there will be a notification by different color than usual, as you are seeing in the image above.
——————————————————————————————————————
Bitdefender Windows 8 Security is antivirus program with all features of Bitdefender internet security plus some additional dedicated Windows 8 specific features. We will just take a look on those extra features that you will definitely interest to know more about it.
Features:
1)      Great appearance.
Apart from the security for Windows it gives a pleasant appearance. You will definitely feel that this software is dedicatedly designed for Windows 8.  It has completely matching with the theme of Windows 8 appearance.
2)      Easy Startup scanner:
It support Microsoft Early launch Anti-malware Feature (ELAM). Basically ELAM represents launching of your program before any other booth driver loaded. So you can feel assured security from Windows start-up attacks.
3)      Windows 8 App scanner
This program is capable of analyzing your Windows 8 applications before, during and after the installation. It will quickly notify and can take appropriate actions if one has been compromised.
4)      Scan Boost technology
I wondered if you like to wait for long time to scan your files. Windows 8 Security can scan your files at ultra high speed assuring that safe and protect way.
5)      Integration with Windows Security Center
It integrates with your default Windows 8 Security center and keeps you in touch with latest security concerns of your system.
6)      SafeGo:
SafeGO provides protection for Facebook and Twitter from fake profiles that created to flood your profiles with either messages or wall post or tweets. This automatically filters your timeline updates from Facebook for any scam links, irrelevant contents etc. It helps you to keep you and your friends safe of social networking sites.
Here is the look of SafeGo protection for Facebook: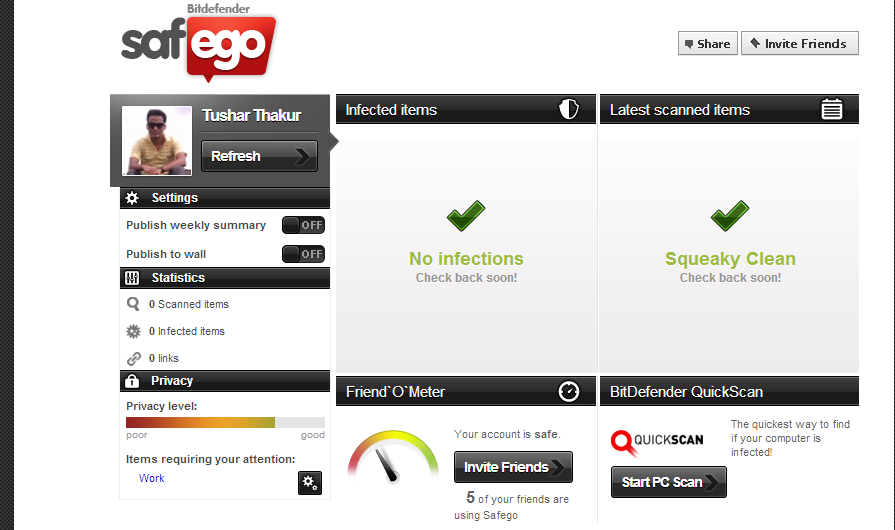 One more interesting thing is that you can access your Parental control, Sandbox and SafeGo online from your Bitdefender account.
It is one stop solutions for your all protection statistic and control.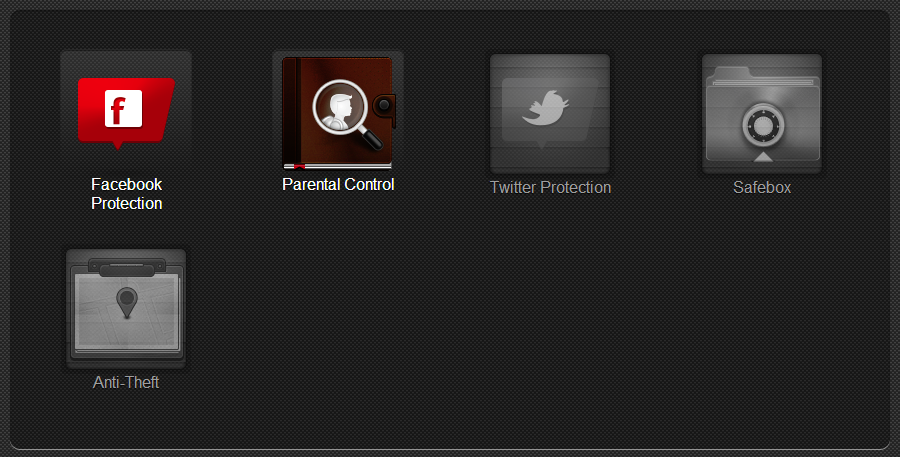 And other known features but fully compatible with Windows 8:
 Bitdefender SafePay
Online remote management
Parental Control
USB Immunizer
Active Virus Control
Emergency Rescue mode
Virtualized browser
Vulnerability Scanner
Two way Firewall
You can buy it from the official website at $59.95.
My own suggestion to Bitdefender team after tying this product:
*Please make any standalone setup files for installation because it is very difficult to install it on the computer with slow internet connection.
If you tried to already please let me know your opinions and suggestions.