Admit it, having the same look on our PC sucks! It's easy to change wallpapers. However, what about themes? The default ones are so dreary that you want custom Windows 10 skins for free, don't you?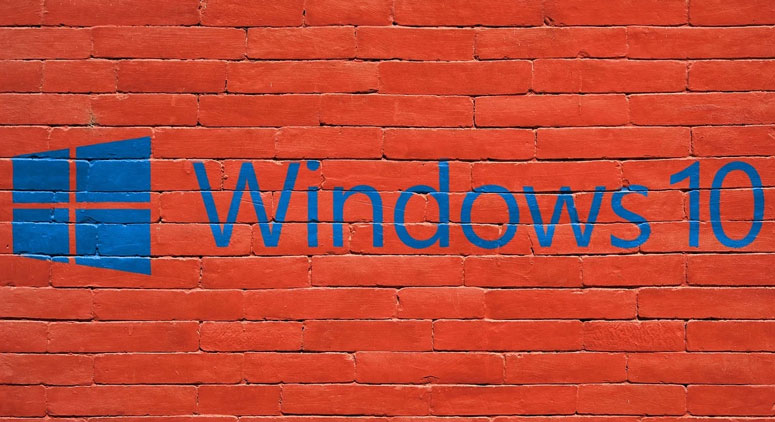 You won't have to wander around the web looking for them anymore. We have done all the hard work to present before you all the exquisite and free Windows 10 themes with icons here. Also note that these themes are also compatible with Windows 7, 8 and 8.1 versions.
Best Windows 10 Skins Available for Free
The internet is like a deep ocean. You can't measure its depth. Neither can you fathom what all are inside. So, it's a time-consuming task to go through countless websites to find popular themes for Windows 10.
Also Read:
How to Install Themes on Windows 10?
You know where to download Windows 10 themes now. Maybe, you are unaware of installing them. Don't worry, we have a dedicated article dealing with the same. Just make sure to create a system restore point before doing anything.
We have done it so that you won't have to. The following are the ones we found. Go through each of them to land on something you can't resist getting your hands on. Oops, don't you know how to install third-party themes on Windows? We have got a guide for you.
If you spent some time researching free Windows 10 skins and themes, you might have stumbled upon DevianArt. Many are available there. Of those, ko-Z astonished us right at the moment we saw the screenshot. Going by the trend, the developer has made this a dark theme.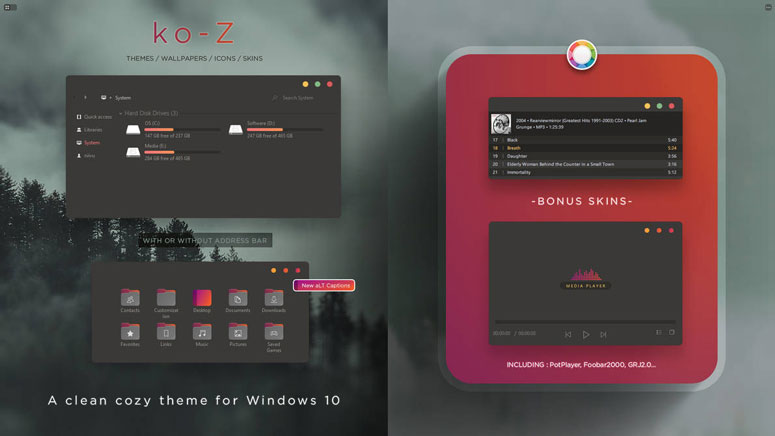 ko-Z changes everything on your computer. Giving an orange accent to the icons, the theme makes the buttons circular just like macOS. In case you encounter problems with the appearance, make sure you installed UltraUXThemePatcher, OldNewExplorer, ONE Setting, and StartIsBack. The background of the windows isn't quite back as it has a texture.
We all love the aesthetic features of macOS. Owing to the closed ecosystem policy of Apple, we can't have it on any other devices. Not everyone can buy a MacBook or iMac given its high price. What do you do then? Well, you pick up a magnificent theme and install it on your Windows 10 machine to make the same look like running on macOS.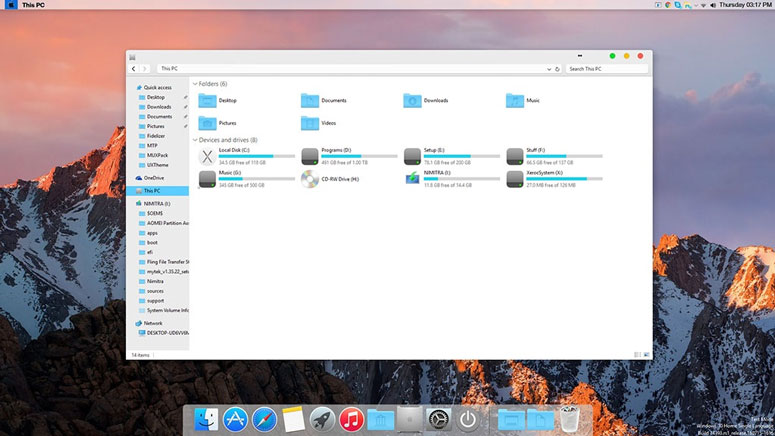 So you wonder, what's the best macOS theme for Windows. Don't worry, we have got you covered. Once you get this to work, you will see almost everyone changed, right from the cursor to wallpaper. Featuring the renowned blue accent with a near to macOS environment, you are going to love this theme.
Don't tell me you are unaware of Ubuntu. We think it's a revolutionary step in the whole free software world. So far, it's the most popular Linux distro with fans all around the globe. You may be one who locked yourself in Windows because you have no other way. What if we tell you that you are not going to miss Ubuntu anymore?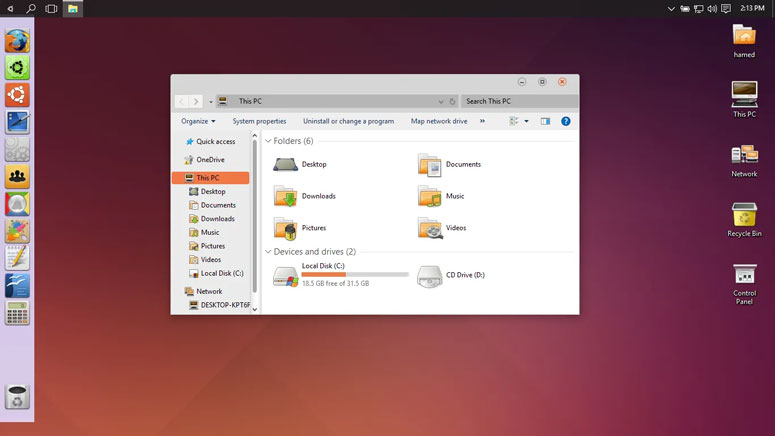 Right from the screenshot itself, you can perceive it's perfect. The developers have changed the colour of the title bar, the way the left pane of the explorer looks, and of course, the icons. Guess what? You are getting all these for free.
The three-dimension isn't quite a wonder now. With progressive technology, we have gone too far in this department. What we have to tell you first is not to expect any magic from this theme. Even though they call it the 3D theme, it doesn't do complete justice to the name.
We still included it here because you may be someone who doesn't want the theme to be fancier. Yeah, 3D Theme is simple with a handful of amazing wallpapers. The colours are a bit dreary, but hey, there is a separate fanbase for such colours. Don't look elsewhere if you want a simple as well as elegant theme.
You know about custom Android ROMs, don't you? The theme we are talking about here took inspiration from one such ROM. So for obvious reasons, it does resemble that. Does it mean you are not going to have a wonderful experience? No, it doesn't. Comes in three different themes (nebula, sweet, and lace), Paranoid is going to surprise you with its unbelievable gradients.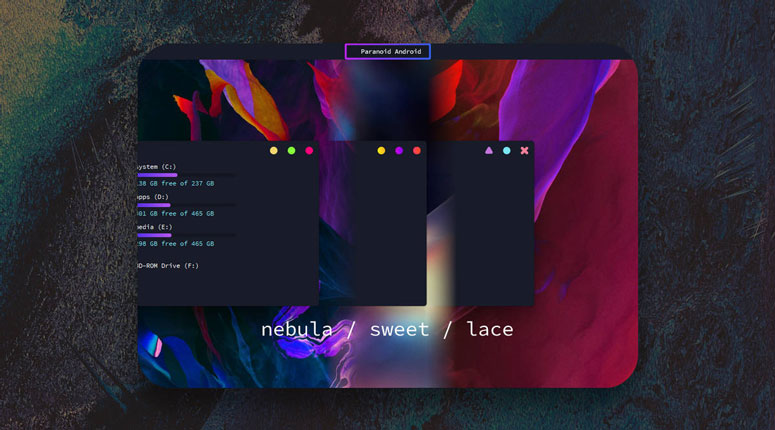 Not only that! You will get an option to customise both Chrome and Firefox to match the theme. Maybe, the icons packed with this theme are not going to woo you. Nonetheless, we think you shouldn't keep away from this whole new experience.
Are you a GoT fan? Unlike any other fantasy TV series, it has shaken the world. Even if the season finale happened, people still obsess over the characters and story. What if we give you something to relive your favourite series? No kidding!
What we got here is a Game of Thrones Windows 10 theme. Apart from wallpapers and the colour of the taskbar, nothing else is going to change. For the same reason, this one is intended for those who don't like heavy design changes. If you want a huge appearance overhaul, have a look at the other entries we have got here.
Do you feel suffocated to have grandeur design elements on your desktop? Oh, is that the reason why you don't try to change the theme? Let's console you, not every theme comes with those smothering changes. Some minimalistic skins are out there, just like Flattastic.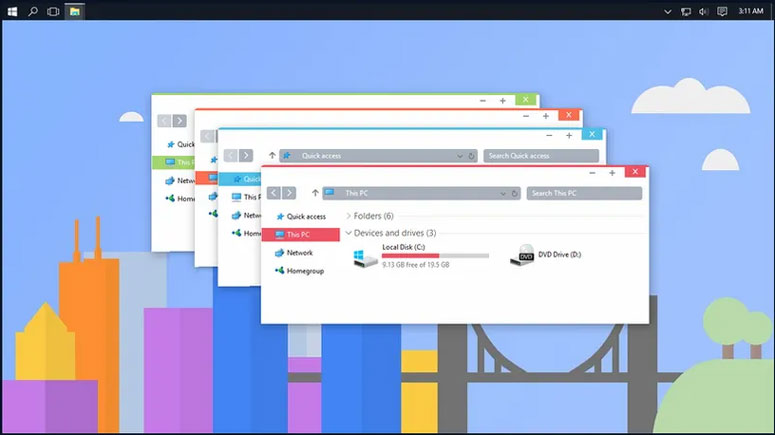 Two versions are available; light and dark. The link we gave above will guide you to both of them. For each version, you will get multiple colour variants. So in effect, you are signing in onto a pack of themes. Don't forget to install UltraUXThemePatcher before copying the files into C:\Windows\Resources\Themes.
Hate the default look of Windows 10? Do you think Windows 7 has an appealing design? Then, Aero Glass is your time machine. It can replicate the majority of what Windows 7 had to offer. With translucent windows and bold colour schemes, this theme is going to blow your mind.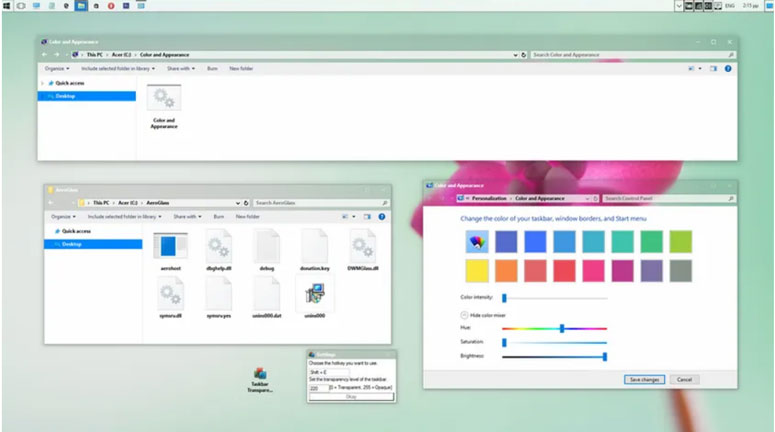 Just as with the previous one, you have to manually copy-paste the files into the theme directory. And then, the switching becomes easier. Make sure you have all the requirements (mentioned on the download page) ready before applying Aero Glass.
Looking for an updated theme so that you won't face any issues with the current Windows 10 version? The developer of Simplify 10 often tests his skin with Microsoft's updates. So, you have got nothing to worry about here. However, this one is a paid theme.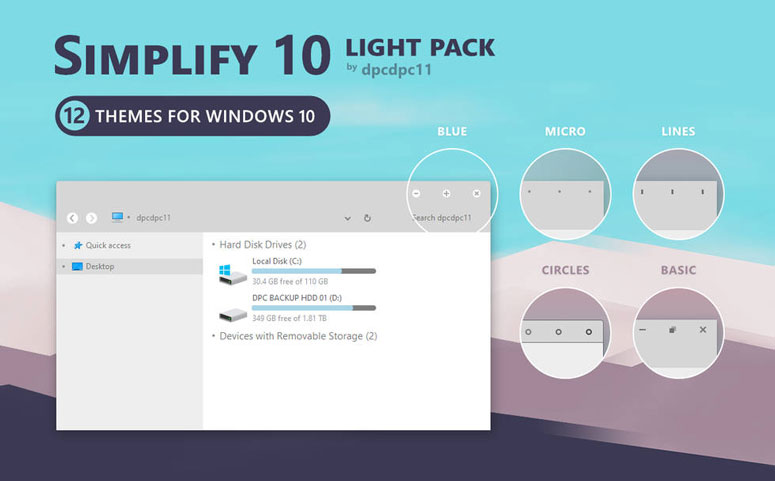 You don't want to spend on a theme, it's okay, move onto the next option. Inside Simplify 10, you get five core themes with multiple variants. In case you encounter an issue (unlikely), you will get unlimited support. Talking about the extras, there are cursors, wallpapers, Firefox themes, and more.
Here comes one of the best minimalistic Windows 10 skins. What we liked the most are the icons. The guy behind this theme put extra effort into keeping them simple. You can't stop loving them even after getting used to the look. The installation is similar to what you have done for other themes.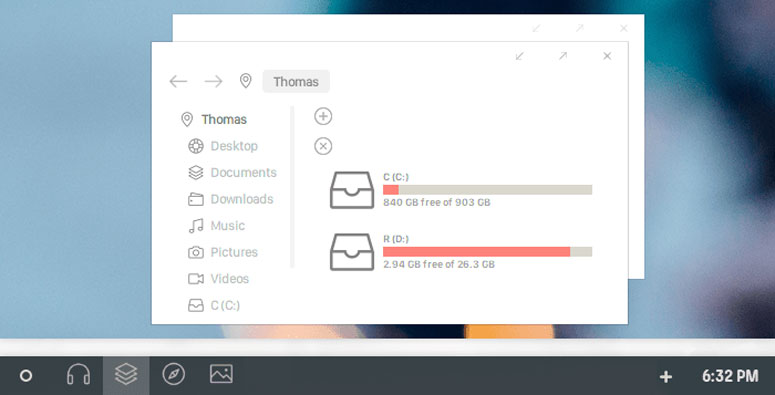 For the ideal experience, you must install the Ribbon Remover program. Moreover, Blank Caption is another application you must look up to. It hides the caption text, which hinders the whole experience of this theme. So, what are you waiting for? Install Oxford right now.
You have a favourite movie, we all have. OMG, is it Star Wars? Even if you aren't an avid fan, isn't it cool to have a Star Wars Theme on your Windows 10 computer? You can use the link given above to grab the file.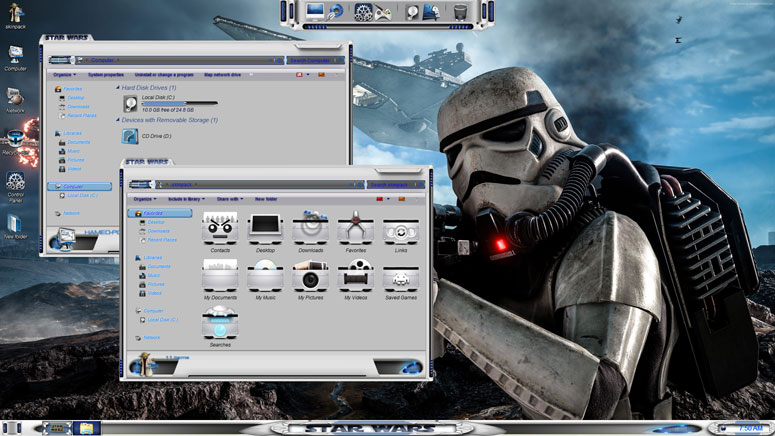 The high-resolution wallpapers coupled with the colour schemes that come with the theme will help you savour those awe-inspiring moments in the movies. Though we are referring to the Windows 10 version here, you can bag this theme for older OS iterations as well.
Most of our team members started using a computer when the latest operating system from Microsoft was Windows XP. It truly revolutionised the tech industry. Even years after, there are tens of thousands of computers still running the same version. Microsoft stopped the support and security updates, that's another matter.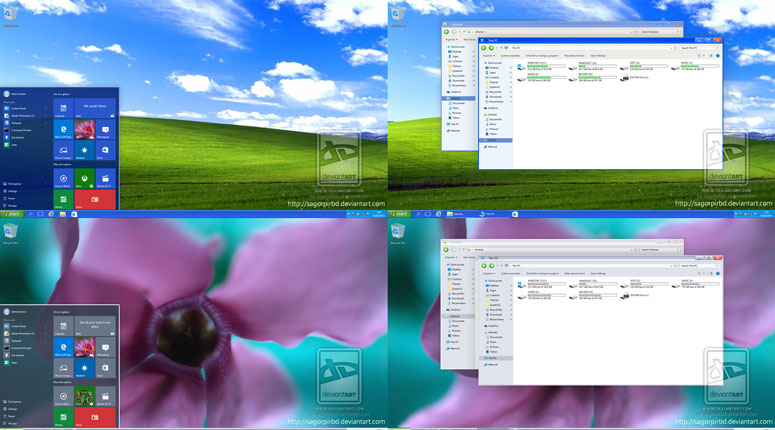 What if you want the updates and the look of Windows XP? That's what this theme does. It duplicates the legendary look of the old operating system so that you get all the benefits. The theme is a bit old. Nonetheless, it works even now.
Windows 8 features solid tiles and colour backgrounds. If you are a fan of that design profile, you are going to love Proma. Once you install this theme, you will be astounded to see the massive change. With close to 200K views on DevianArt, Proma stays on top in terms of popularity.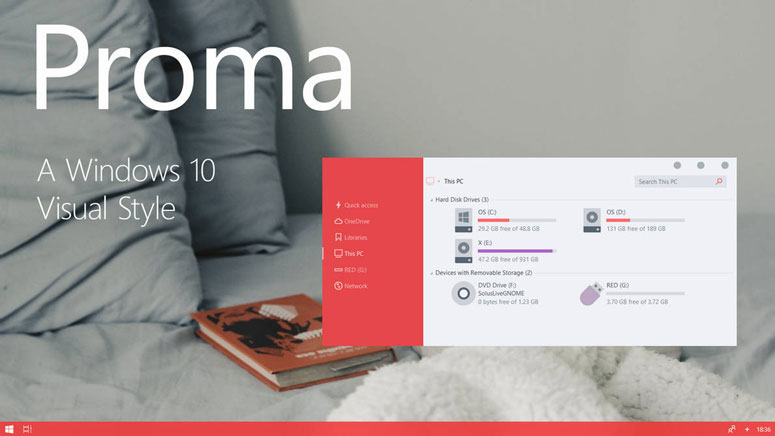 Before you begin to install the theme, make sure it supports your version of Windows. For that, you have to run 'winver' from the Run dialogue box (Win key+ R). After the installation, you must remove the ribbon to beautify the windows.
The second Windows 10 skin that we gave in this list is based on macOS. Maybe, you didn't go along with it. That's why we are here with another theme to transform your PC into a Mac machine. It has got everything right, colours, icons, wallpapers, cursor, and whatnot!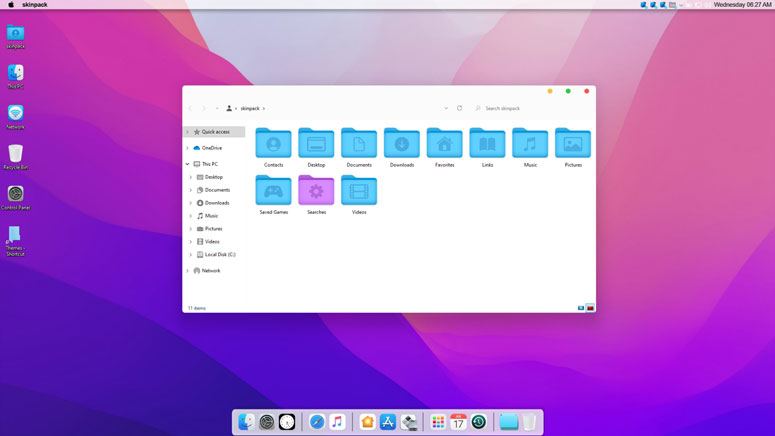 The legendary macOS dock is also there on the bottom (of course, you can change the position). Just as with any other theme, we recommend creating a system restore point before the installation. That's how you rescue the computer in case something goes wrong.
Today, most people have decent internet connections. For the same reason, downloading a file is not going to be an issue for them. What if you have a slow connection that takes ages to download something?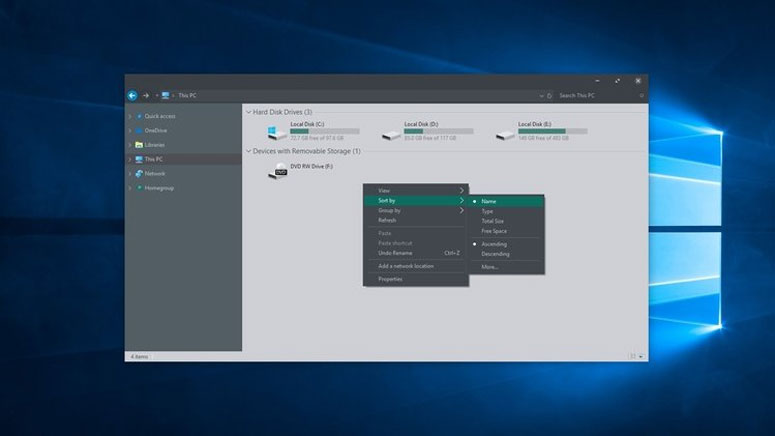 Well, Ades is here for you. It's lightweight and easy to use. Paste the file into the themes folder, switch to it from the Appearance window, and there you go! It doesn't bring complete dark mode, but instead a grey and a unique green combination. You must know that it only works with Windows 10 Threshold 2 and later versions.
For your information, Windows 10X was supposed to be the lightest version of the legendary operating system from Microsoft. They decided to ship hardware with this iteration in 2021. However, things went upside down and a couple of months ago, they announced the demise of the project.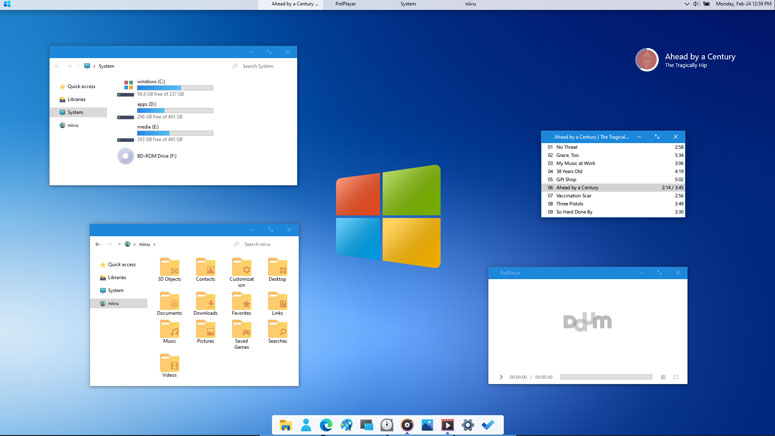 Guess what? You can still relive the experience through this theme. With 10X skin, you can centre align your taskbar. Minimal window buttons and fluid design profiles are going to create a stunning viewing experience whenever you use your computer after installing this theme.
Unless you are living under a rock, you know what Nvidia is. They are one of the most popular GPU manufacturers. We all know the role of a capable GPU in gaming performance. Just think about it, you, playing games in an emulated environment that this nVidia skin pack provides.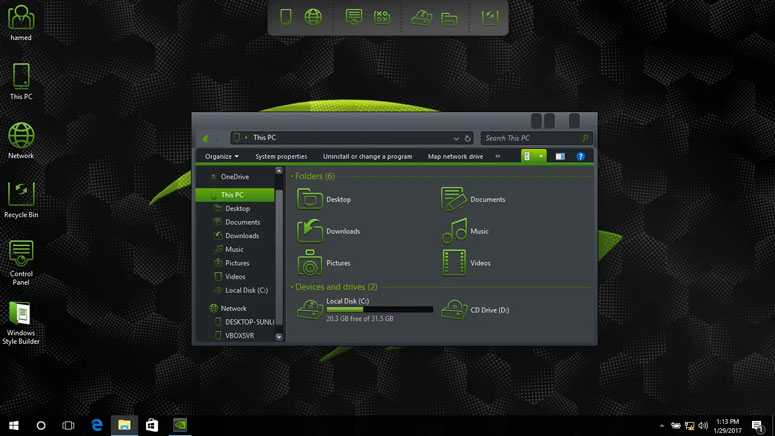 There are both paid and lite versions of the theme available. You are free to choose either of them. To be on the safe side, remove all the active themes from your computer before activating this one.
Angry Birds began as a mobile game. Then, we saw it on different platforms and finally as an animated movie. Many adults still have the game because they grew up playing this one. Thinking of transforming your PC into an attribution for Angry Birds?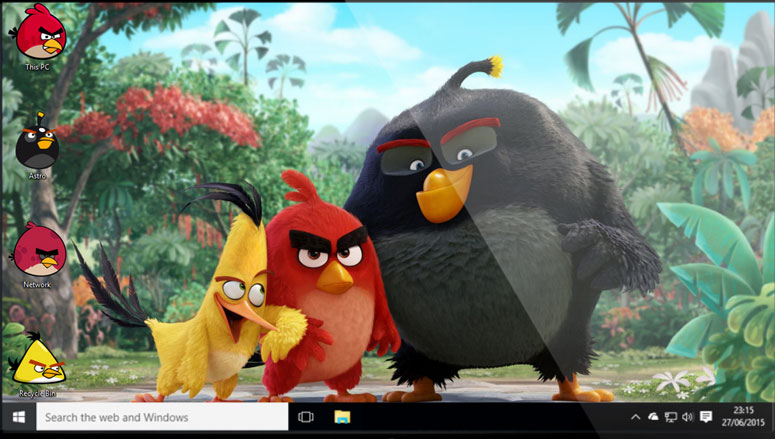 Nothing beats this skin! It will change your icons, wallpapers, and many more to emulate the bird world. We are confident enough to say that it's one of the best windows 10 themes available out there.
Next up in our list of skins for Windows 10 is a lightweight one. It focuses on fantasy wallpapers more than anything else. That's the reason you are not going to see ambitious design revamps once you install this theme.
Featuring 16 wallpapers, DFL's sole aim is to astonish you with the simplest of things. It's lightweight and easy to install. Plus, you won't need any third-party programs to get it to work.
Believe us, the colours of Joyful Desktop have stunned us. Someone with a magnificent colour sense has built this theme. White (or dark), in combination with cyan and magenta, will soothe your eyes.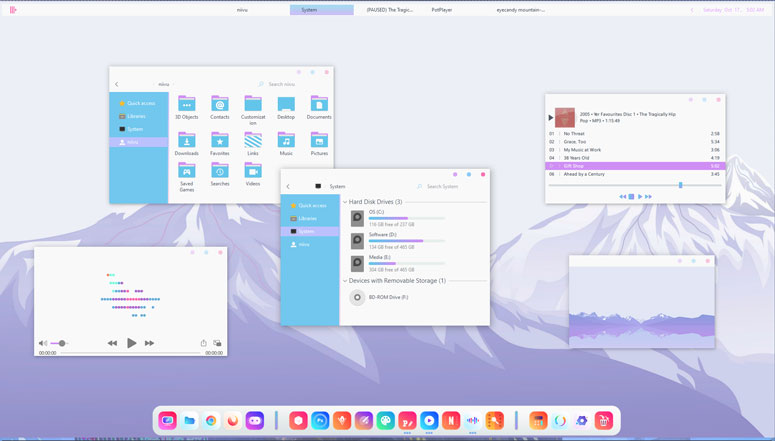 In case you didn't notice, it's a spinoff of a popular Linux Distro theme. Many things come along with this theme including Windows 10 themes- Light (eye candy) + Dark (mechanical), two caption button styles, 7TSP icon themes, docks, two Firefox themes, and more.
When you set out to download Windows 10 skins, you may be looking for flashy neon light-like themes. We are not a fan of this particular design scheme. However, we have got one for you.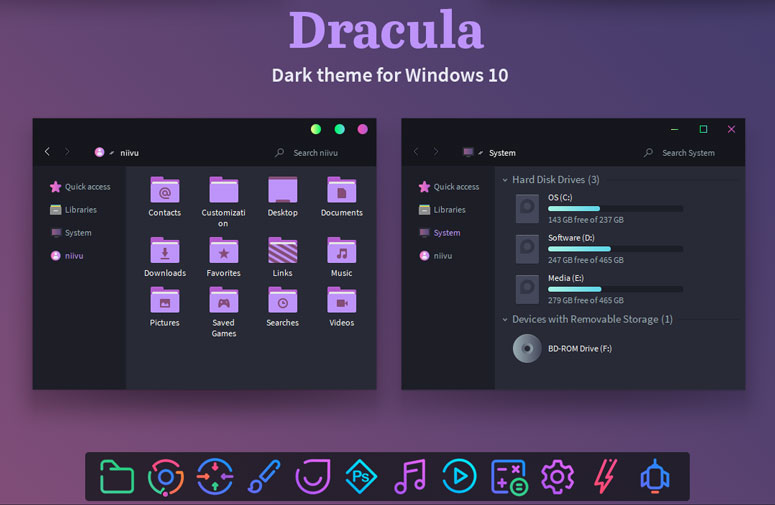 Dubbed as Dracula, it comes with unique icons. You can perceive the looks from the screenshot itself. Although the name speaks of the devil, nothing is going to scare you off. If you have a gaming rig with RGB lights on it, Dracula is going to be a nice addition
Conclusion
So yeah, you have got the best Windows 10 skins for free here. What do you think? Which one of them is your favourite? Oh, you couldn't find your favourite theme here? Don't hesitate to share something about it in the comment section down below. We will check it out, we swear!