Creating an effective video wall presentation isn't just about generating engaging and exciting content; it's also about creating an immersive cinematic experience for your audience.
Creating an immersive and engaging experience with a video wall presentation isn't just about revolutionizing how you present your business updates or host your conferences; it's about establishing a new connection with your audience and reaping all of the resulting benefits for your business profile and engagement levels.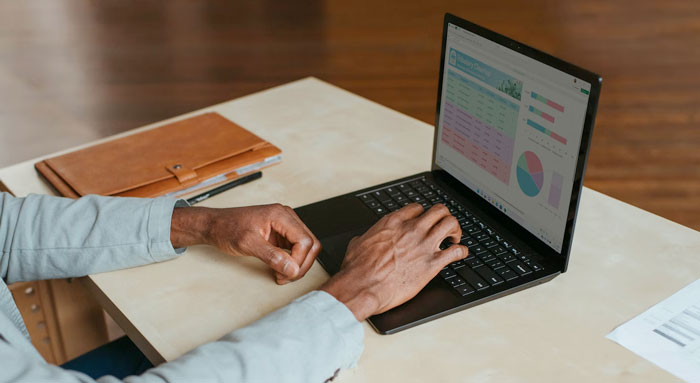 Not many of us realize that providing an impressive video wall presentation can propel you towards meeting your crucial business goals, so it's important to prioritize taking your video wall presentations to the next level.
To help you understand why this is important, we've compiled this comprehensive guide to the benefits of creating a great video wall presentation with a guide on how you can do this with the help of video wall devices.
What is a video wall presentation?
Before we get into some specific advantages, it's very important that we first discuss what it means to use video walls for presentations. Video wall presentations refer to standard presentations that use video walls as their display mechanism. Video walls consist of multiple monitors used together to create the illusion of a single space.
Typically, these come in sizes from 4×4 all the way to 172×44. There are a few main types of video walls, including LCD, rear-projected cubes and LED walls. We most commonly see LCD walls which comprise multiple LCD panels put together to create a single surface. This is because these walls are relatively cost-effective and easy to use.
Rear projected walls are some of the more sophisticated walls that integrate video wall operations. By projecting images through the screen rather than in front, users can enhance their video quality and provide a much more seamless display.
We mostly see LED video walls used for advertising purposes in shop windows or on large billboards. This is because LED display walls create a bright and highly detailed display by using many LED lights to catch people's attention.
One of the best things about video wall presentations is that we can use this technology in a huge variety of settings. Here are some places where you might stumble across a video wall:
Conferences
Trade shows
Office buildings
Advertising settings
Shops
Control rooms
Emergency response settings
Education settings
Broadcasting settings
The key benefits of creating a video wall presentation
There are so many benefits to using a multi-screen display like a video wall in your presentation strategy. From being able to isolate screens to enhancing your screen resolution, no matter your project, you're bound to experience some serious advantages. Here's a guide to five advantages of creating video wall presentations:
Engagement
Engagement is one of the most important things to consider when you're constructing a video wall presentation. This is because engagement is key to getting your colleagues, students, or audience on board with your message and primary objectives.
Engagement is critical for professionals and business owners, as this is what motivates your employees to work toward major objectives. Without engagement, people quickly become demotivated, making reaching key targets extremely difficult.
When you use a video wall presentation to communicate, this creates a much more dynamic display than a typical slideshow and whiteboard presentation. By using equipment like a video wall display controller, matrix switcher and video wall processor, you can isolate screens, generate effects and stream web-based content to create a cinematic experience for your audience.
That means your audience is much more likely to absorb your presentation's message, leaving them motivated to respond to your calls to action. So, if you're noticing bored faces in your presentations, consider taking action using a video wall!
Communication
Communication is one of the most important things that help businesses, classrooms, and control rooms function smoothly. With good, clear communication, your audience leaves your presentation with a comprehensive understanding of the subject matter and what to do next.
This is especially important in business settings, as professionals use presentations to distribute vital information like business updates and project instructions. Without clear communication during your presentations, your attendees may leave with significant misunderstandings of their tasks, leading to a productivity bottleneck that impacts other business operations.
Using a video wall in your presentation allows you to stream a high volume of information from a single source, allowing you to display supporting materials alongside the rest of your presentation. This gives your audience more time to absorb your messaging, leading to better understanding and less room for misinterpretation.
Flexibility
One of the main reasons why you should think about using video walls for your presentations is that video walls are extremely flexible. Unlike standard slideshows and traditional forms of communication that might not be able to translate to different settings, you can rely on a video wall to provide the same cinematic impact, no matter where you use them.
This is a key benefit for businesses that deliver several presentation types in a short space of time. From meetings to conferences and trade shows, you can provide a high-production value experience to your audience every time, no matter the audience size or subject matter.
This is a great alternative to opting for traditional presentations that might not be able to command the same attention in a large venue as they do during small-scale meetings and conferences.
Customizable
While it's often overlooked, one of the key benefits of using video wall technology is that it's highly customizable. With video wall technology, you can choose AV devices that are suited to your objectives and presentation requirements alone.
That means you don't have to invest in fancy technology or super sophisticated displays if you don't want to.
Not only is this beneficial for your wallet, it means you'll get the most out of your video wall, ensuring you can fully appreciate all of its capabilities instead of scratching your head and not understanding how to operate these systems.
Scaleable
Modern businesses need technology that is capable of scaling alongside their progression, but this can be hard to find. As your business develops, you may find yourself hosting more presentations for those in your business, your customers and even potential business partners.
To cater to your changing audience size, you'll need AV solutions that ensure you can provide the same high-quality AV experience on a larger scale. Thankfully, one of the best things about using video wall presentations is that you can increase your video wall size with ease. Including more monitors in your set-up is super simple, allowing you to cater to much larger audiences.
You can also rest easy knowing you won't have to invest in more technology, as high-quality controllers, processors, and switchers will be able to manage all your project sizes.
Summary
We hope you're ready to start reaping the significant benefits of using a video wall in your presentations. Whether you're an entrepreneur, an AV enthusiast, a presenter, a teacher or a control room operator, you're bound to see some serious improvements in your engagement and communication levels while generating impressive and immersive AV experiences for your audience!