The contact center is the most important part of your business. It's the first point of contact between your customers and your company. The contact call center is integral to all your business operations and needs great care to ensure that your customers get the best quality of service possible.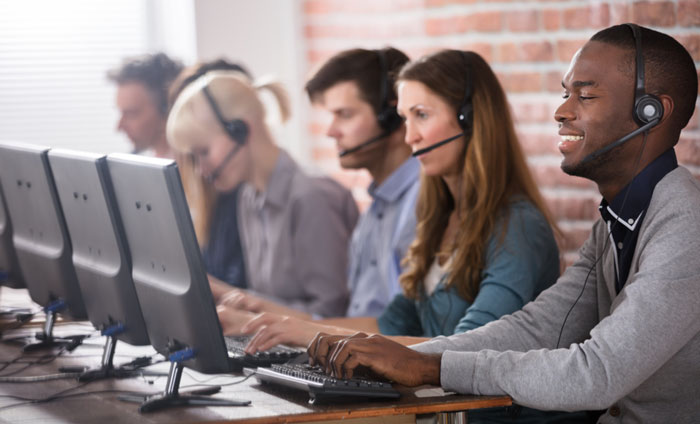 However, call center agents aren't perfect and are prone to make mistakes once in a while. Such mistakes might ruin your client's experience and push them away from your business for good. And before you even get the ringless voicemail drop, you need to know how to prevent customer dissatisfaction. If you need to learn how to boost the efficiency of your contact center, worry not. Here's a guide to boosting the efficiency of your contact center.
Measure The Right KPIs
You want your call agents to be at their best because they're your call center's lifeblood. Therefore, the slightest operational inefficiencies, usually due to excessive operational processes and/or inadequate training, could end up hurting your call center.
Knowing this, you must constantly measure your agent's performance to find the best way to improve how they manage client relationships. Using the right KPIs can help you improve your call center's overall efficiency. Here's a look at some of the essential KPIs that you need to have in mind:
First Call Resolution (FCR): It's the ratio of client calls an agent handles per interaction. Call transfers across different departments might ruin customer experience. So a high FCR rate indicates client satisfaction.
Calls Per Agent: This is the number of calls an agent handles. The calls-per-agent metrics help you determine how balanced the call queues are to allow for the even distribution of the workload. It's a vital metric that ensures each agent handles a uniform number of calls. This helps to lower the cases of burnout, which negatively affects the entire team's overall productivity in the long run.
Cost Per Contact: This refers to the money spent to handle every customer interaction.
Average Hold Time: This is the time before an agent attends to a client, often because they haven't been well trained. Besides negatively affecting customer experience, a long hold time adds pressure to other agents in the contact center. As a result, this can reduce the timeliness and speed of call handling.
Average Handle Time: It refers to the time agents take to handle each call. Ideally, a lower average handle time is good because it means better efficiency.
Customer Retention Rate: It's the rate at which clients remain loyal to your business for a particular duration.
Measuring all these metrics will help you get a clear picture of an agent's and a department's performances. You can then use these insights to improve your contact center's overall efficiency and customer service.
Train Your Staff Continuously
Repetition is key. Constant, regular training will allow your staff to identify their mistakes during calls and then rectify them to enhance operational efficiency. Proper, continuous training will also reacquaint your agents with the basic functionalities of your main products or services, knowledge base, and how to use software, such as the Power Dialer. It'll also further reinforce their knowledge and renew their vigor to perform a successful operation of a contact center efficiently. This will come in handy, especially during unexpected situations while dealing with customers.
Training activities should mainly focus on ways to improve empathy, communication skills, problem-solving skills, and active listening skills.
Make sure to include fun and interactive activities during training. Gamifying a learning session encourages active participation and is often tied to a higher knowledge-retention rate.
Live-Call Monitoring
Real-time monitoring of your call center agent is also important to identify the specific areas that need improvement. You need to have more than one supervisor perform this role if there are many call center agents. During the live-call monitoring, the supervisor will be able to pinpoint possible issues. Consequently, they'll guide the agents on how to come up with proper solutions to improve their customer service delivery.
With that said, you can only effectively perform live-call monitoring if there's a good agent-to-supervisor ratio. While there's no set industry standard, a ratio of 25:1 would be ideal. This way, your supervisor won't have too much on their plate to effectively carry out live-call monitoring.
Develop An Omnichannel Strategy For Your Contact Center
Implementing an omnichannel strategy involves developing flexible and scalable strategies across multiple channels, such as email, chatbot, live chat, and live call. This approach allows you to segment your clients according to their problems and preferred channel of support. It does a great job of doing away with congestion and streamlining traffic, and it ultimately improves workflow.
An omnichannel approach also helps improve customer experience, and it does this by promoting a smoother interaction between the agent and customer. This is achieved by offering personalized customer service. After all, it's every client's wish to get authoritative solutions to their problems. The omnichannel strategy guarantees this by ensuring they're handled by an agent knowledgeable about their specific problem.
If you don't know where to start to develop omnichannel best practices, here are some useful ideas to follow:
Empower your contact center agents by training them in soft skills, for instance, willingness to listen, empathy, and tone of voice. It will help them feel relevant and authentic during client interaction across every channel.
Use a quality scoring system to do a regular QA on all channels to find all aspects of the client experience.
Personalize client experience using customer data across all channels to enhance your client's customer journey.
Perform routine and planning strategies to match every client to a suitable contact center agent to get the necessary assistance.
Use contact center technology to boost real-time client engagement through speech analytics and live-call monitoring, among other engagement activities. A good example would be the CRM software that would enable you to do away with the usual channel, system, and department silos.
Hire The Appropriate Agents With The Right Skills And Retain Them
Hiring the wrong people can lead to problems. For example, if you hire someone with poor communication skills, customers will feel like they are talking to a machine instead of an actual person. If your agents don't understand how to handle customer concerns properly, they won't be able to resolve issues quickly. You don't want such problems, as this greatly ruins customer experience. This can best be avoided by hiring the right agents.
Knowing this, hiring the right agents should be on top of your agenda when starting a contact center. Suitable candidates should possess soft skills and be able to handle even frustrated clients rather than push them further away from your business. They also must have a strong desire to offer services to customers.
You must also do your best to retain your best employees. If your productive agents leave for other companies without replacing them in due time, your team may not be able to keep up with demand and resolve issues quickly. And to boost operational efficiency in contact centers, it's important that you have a clear vision of what success looks like for your team to better understand how you want them to behave when interacting with customers.
Give Your Call Agents The Right Tools And Information To Succeed
When it comes to technology, the call center industry is constantly evolving. The demand for efficiency and customer satisfaction is constantly increasing, which is why it's time to update your contact center technology.
With this in mind, your call center needs to be equipped with the right tools and information to succeed because outdated technologies can reduce overall productivity. This is especially crucial if your contact center handles a high volume of calls from your clients. If you're not investing in new technology, your agents are looking at a big performance gap between what they're doing now and what they could be doing if they had access to the latest software.
Optimize Average Call Handle Time
The average call handle time is the average amount of time it takes for a customer to reach an agent. A low call handle time means that customers are able to get in touch with agents quickly and easily. This can mean fewer calls and less waiting on hold, which improves the overall customer experience. It's also an important metric because, besides directly impacting customer satisfaction and engagement, it can affect employee productivity.
Knowing this, optimizing call handle time is integral if you want to improve efficiency. The more time an agent spends on a call, the less productive they are.
It's important to reduce the average call handle time. Call times need to be as short as possible to save time and money without ruining the customer experience. If you have a high call handle time, then you're going to have a lot of unhappy customers who feel like they were ignored or left hanging on the phone when they did get through to an agent.
Create Detailed Call Scripts
Call agents are busy people, and they don't have time to read long, complicated instructions or instructions that are scattered all over the website. They need to know exactly what they're supposed to do so that they can provide a great customer experience. An effective way to do this is by creating detailed call scripts that your call agents can use as references when they're interacting with customers. These call scripts will also help ensure that they have all the information they need at their fingertips.
A call script contains all the possible questions a customer makes. The agent usually puts this up where they can easily see and refer to it when needed. After all, they're human, and it can be difficult for call agents to remember all the information that customers need when calling your company. Having this information at their fingertips will come in handy when handling complex situations while still being able to look confident. It also prevents any misunderstandings between them and the customers.
Some helpful tips that you should follow at your contact center to come up with the best call script include the following:
Personalize the call script.
Make things as simple as possible.
Go straight to the point as fast and efficiently as possible.
Review your competitor's scripts.
Adjust your script so that it sounds natural when reading it out loud.
Write different scenarios and paths in your call scripts.
Make your scripts knowledge resources.
Monitor your call script's success for customer satisfaction.
Make sure to sound conversational and authentic.
Gather Feedback From Agents
You should also focus on gathering feedback from agents on a regular basis, such as weekly or monthly meetings, to get a better sense of how your agents are feeling about their work. This will enable you to address any problems or weaknesses before they become big issues that affect your bottom line or customer satisfaction. As a result, you'll be able to make changes and improvements without having to send out surveys or focus groups.
You can also get feedback from your call center agents by asking them questions about their satisfaction levels with various aspects of the job. For example, if an agent feels overworked or underutilized during their shift, ask them about their general satisfaction level for the week. You can also ask specific questions about how they feel about certain tasks or problems within the department.
Takeaway
Customer experience has become a crucial component of business growth, and the efficiency of your contact center is crucial. Today, this is especially vital, and the increase in customer expectations has forced businesses to invest in contact center solutions to boost operational efficiency and customer engagement.
If you're stuck on how to boost the customer experience, improving the efficiency of your contact center would be a great place to start. This guide has explained in detail various ways you can realize this goal for the optimal performance of your contact center.