Dropbox is one of the popular cloud storage solutions or share your files over air. It is almost free you will get 20 GB free storage with your android mobile. Usually people use Dropbox to save and share files globally with ease. Dropbox provides applications of PC and Smartphones so that we can just copy and paste files from and too you device and PC. This is very easy and one more advantage about this is the Dropbox saves the files on online server so that it can be accessible from anywhere in the world and with just sharing a link for that. Dropbox introduces a new feature for Android 4.0 ICE- Ice cream sandwich users. This feature allows you to stream video files over Dropbox folder. Without downloading them anyway.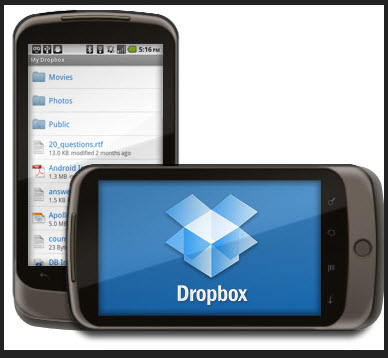 This exclusive feature is only available for android ice 4.0 ice cream sandwich operating system phone users. All you need that a Dropbox account and Dropbox application for your mobile. With this application you can not only stream video files but also upload any type of file with just drag and drop on just by doing simple copy paste.
How to stream video files on your android 4.0 device over air:
First step is that you need to download the official Dropbox application for android from Google Play store also known as android market. Install the application on your ICS enabled phone and launch it.
If you already have Dropbox account then it's okay otherwise create one for free. You will get free 20GB storage space (In case of HTC you will get 50GB space) with your android device.
Now you can access the files inside your Dropbox storage over air (over internet worldwide).
To stream videos just open the video file inside your Dropbox application show below.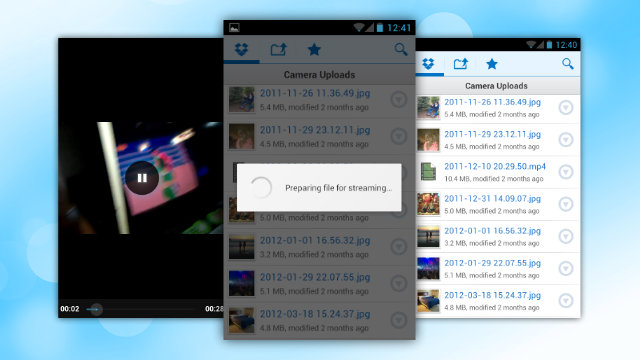 Video streaming can possible over Wi-Fi and mobile data also. This is advantages that you don't need to download the video entirely.
See the video regarding same:
[youtube]http://www.youtube.com/watch?&v=w4eTR7tci6A[/youtube]
This offers following advantages:
·         Save time to download entire video
·         Save your phone memory
To download the Dropbox application for your android visits the link below:
·         Download Dropbox app for Android– Google Play
Read this:
·         Top and Best 5 Video editing android apps that everyone must have