After 6 months free hosting offer, now Hostgator.com is back with exiting offer for new customers. Offer is only valid for 1 day. In this you can get all hosting packages at 50% flat rate.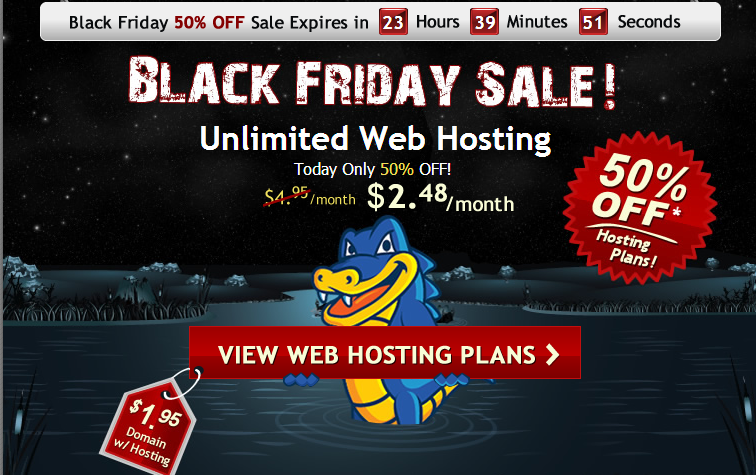 Why Hostgator?
Key points to highlight about Hostgator.
Excellent response speed.
Capable of handling very huge traffic.
Never experienced any downtime yet.
Shared hosting is as reliable as VPS compare to other providers.
High security to your data and files.
Excellent support team to resolve issues 24 hours.

How to get that 50% offer?
This offer is only for new customers. Old customers cannot get off in the purchase. So please be sure to use new domain and email ID for signup. New customer can also able to get domain name for just $1.95.
Go below link to avail the offer:
Hostgator 50% off to all hosting plans>>
Note: You will get 50% off for Hatching and Baby plan for any time period but for VPS hosting you can only able to get 50% off for first month only. Because, VPS cannot be oversold, unlike shared hosting.
Offer validity:
Offer is only valid for one day (Black Friday). 23rd November 2012. Don't miss.