When lovely young Pooja Basara woke up on the morning of 6th October, 2012, she had no idea that she was to become part of a YouTube sensation! Even when she went shopping in the upmarket Ambience Mall in her home town of Gurgaon in India everything seemed normal. Then it all changed!
The LG World Record Team and Karan Arora of Gurgaon, India had got together to their mutual benefit earlier in the year. The LG WR Team is working hard to dominate the consumer electronics market in India and Karan was determined to impress his girlfriend sufficient for her to accept his proposal of marriage.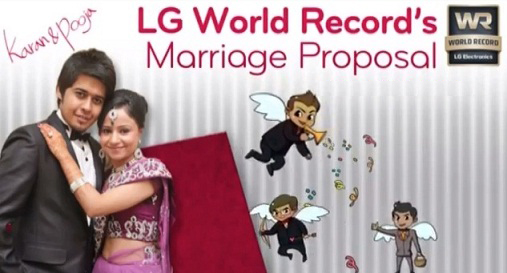 Karan had mentioned his intention to get engaged when chatting with WRMan Sherlock on the LG forum. Super-promotional guy that he is, Sherlock saw the potential and he and his team got together with Karan to make his proposal a memorable one.
The result was the idea for an astonishing flash mob in the upmarket Ambience Shopping Mall in Gurgaon! Not just any flash mob, but the first flash mob proposal in the entire country and it is one of the best experiential marketing from LG.. Karan and the LG team were trained by genuine Bollywood choreographers for weeks and were more than ready on the big day. But how to present it to Pooja?
Here's what happened:
Getting Pooja Involved
Pooja was looking at a flat screen TV in an electronics store in the mall when Karan appeared on screen and asked her to go outside and down to the main floor.  When she arrives, there is a fair crowd of people there, and a couple suddenly starts dancing to Bollywood style music – then three, then ten and more.
Karan appears and starts dancing along with the group, which ultimately swells to around 100 or more swiveling and gyrating to up-tempo Bollywood music. Karan puts his hands out to Pooja who walks forward and joins him. They dance together until Karan gets down on his knees and proposes.  How can she refuse!
This is a marriage proposal Bollywood style, and it is all being recorded by LG for publication on YouTube. What a fabulous flash mob proposal and what a marvelous publicity coup for LG and its World Record team.
Here are the footage; how all started:

The Reason
The potential for consumer electronics in India is immense, and the Korean company LG Electronics is determined to increase its exposure as a major player in the consumer electronics market in India. The firm is promoting LG as' Life is Good' and associating the name with the good things that happen to you in life.
This staged marriage proposal, although genuine, is just one example of LG's innovative approach to marketing.  It is contacting young people through social networking sites and utilizing marketing techniques that competitors have never dreamt of using.  The LG World Record Team is just one example of LG's imaginative approach to marketing that ensures a high level of brand recognition.

As for Karan and Pooja – thanks to this flash mob proposal they are now happily arranging the date for the Big Day and LG have just gained a few more loyal customers. Incidentally, Karan and Pooja are characters in the 2005 Bollywood thriller, Vaada.  Is this coincidence?