One of the biggest advantages that followed the digital revolution is the simplicity to enjoy music, videos etc. For the purpose, several kinds of traditional storage options, such as DVDs and CDs, have been replaced! Yet, when we take the case of movie freaks, we can observe the fact that most of them have a special affection towards DVD, especially when we consider its unmatchable quality in both video and sound. However, it may not be possible for you to carry all those DVDs wherever you go, as it consumes a lot of space. And, here you need an effective tool to keep such CDs and DVDs safely, and we have an awesome suggestion for you – WinX DVD Copy Pro. In this post, we will review this tool, and the review will include several aspects of DVD Copy Pro such as usability.  WinX is running a special spring giveaway for WinX DVD Copy Pro, and you can get premium licenses of the tool from there, and we hope you will not miss this deal.
What can you do with WinX DVD Copy Pro?
Unlike what does it name say, WinX DVD Copy Pro is actually a multi-purpose tool for Windows. Before we jump into the critical overview of DVD Copy Pro, we will tell you prominent tasks that you can accomplish using this tool.
In this option, you can copy DVDs in the traditional way. You have three options to choose from; in the first, you can copy the DVD into an ISO file; in the second, you can convert it to a VIDEO_TS folder and in third, you can convert it to another DVD itself. For this, however, you need two DVD drives, and you should insert source DVD and blank DVD in two drives. Obviously, all these methods are quite useful, because you can copy those DVDs without losing any bit of data from those.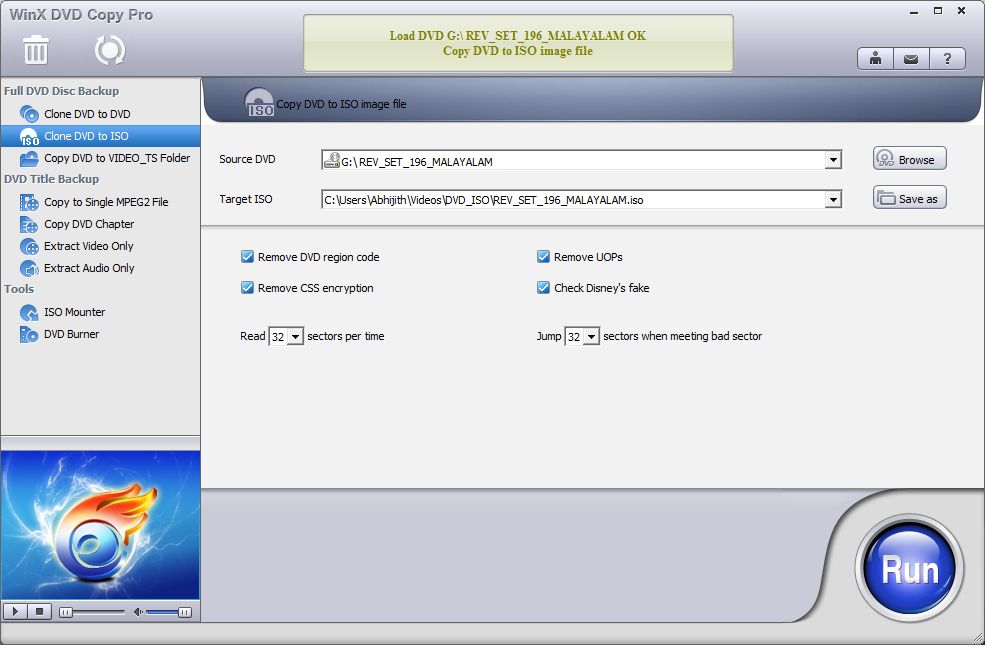 Chapter-wise & Single-file Copy
This is perhaps the best option for movie freaks! Using these methods, you can save a specific part of the DVD to the PC, or converting the whole DVD into a single media file. In the first mode, you can view the list of DVD Chapters and select specific chapters that you want to convert to media files for sake of accessibility or easier portability. Also, it is having options to extract video and audio of DVD according to your requirement, as there are special tools like audio extractor and video extractor. As we mentioned before, both these sections will help the movie freak in you to keep track of all your favourite movies in a securer form than those DVDs.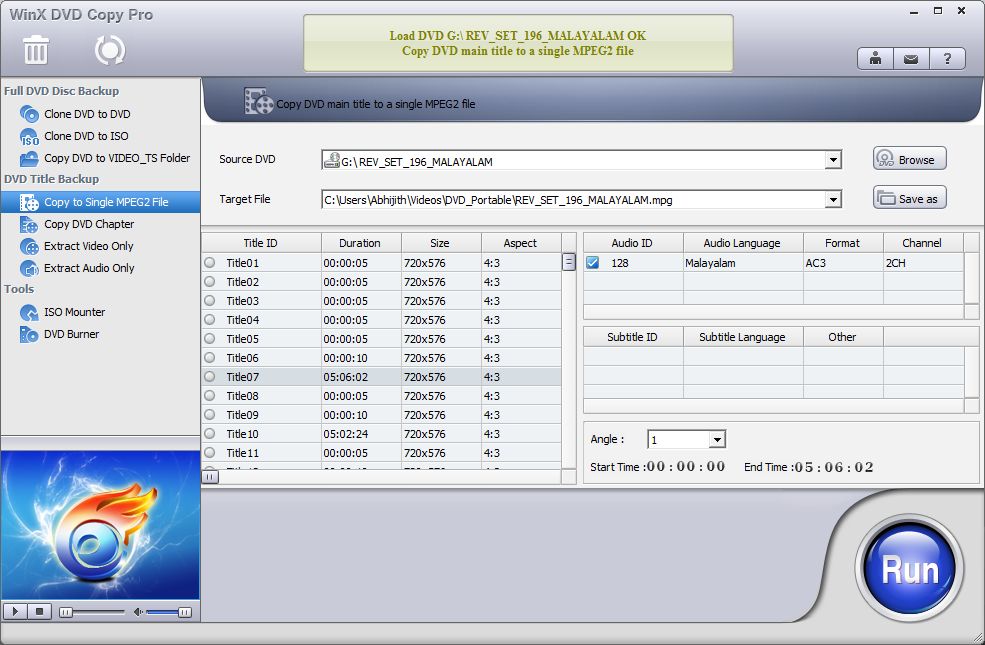 ISO Mounting & DVD Burning
In some cases, you might have saved the ISO file of a DVD for later use. Using the ISO Mounting feature, you can use that ISO file as though you have inserted the actual disc into your PC. Obviously, this feature is very useful, indeed. It is also worth noting that WinX DVD Copy Pro has an in-built DVD Burner. Using that DVD Burner, you can write that ISO file to a blank DVD for later use. Both these features are, indeed, productive.
User Interface & Performance of WinX DVD Copy Pro
According to our experience with WinX DVD Copy Pro, we found its user interface extremely awesome and very easy to be accustomed with. The tool has an ultra-simple menu, in which tasks are categorized according to common use. In light of our use, we came to understand that resource requirement of WinX DVD Copy Pro is extremely low, as it is optimized for low CPU usage, which in turn assures that WinX DVD Copy Pro will work in devices with low hardware configuration without that lagging. In addition, the tool consists of a special part, using which you can recover DVDs that are actually corrupted.
Our Verdict
In light of all these sections, and performance of WinX DVD Copy Pro in these sections, we have to conclude that this tool is worth checking out for each and every movie freak who wants to manage their DVD collections easily as well as to convert them to digital form. In addition to all these features, the developers have included effective tutorials for all kinds of tasks you can accomplish using the tool. These tutorials are accessible from its official website, and we found those helpful. Altogether, DVD Copy Pro is an essential tool for all movie freaks.
Reminder: Don't forget to participate in the giveaway.